Thank you all so much for the awesome comments on the work I created with Imaginary Friends. I have a few more CHA projects (1- 12x12, 1- 8x8, 2 cards, and a project) to share with you using another new release, Lil' Critters. Whenever I design with
My Little Shoebox's
products, my main focus is to show you how versatile the products are. I've heard a lot of people say, "oh it's cute, but it so PINK"....well, it doesn't have to be. Take a look and see what I mean...
I gave dimension to a piece of lined paper by running it through my Epic Six using cuttlebug's allegro folder. I love those pears and couldn't help but make them the focus on this Perfect Pair card...get it! LOL!
The inside of the card reads "you two are the perfect pair Congratulations and best wishes as you embark on this new journey together." I added a little twine, lace, and stickles for a rustic sophisticated look. I think the apron lace border really finishes it off.
I made this card in honor of my girlies from scrap-diner.com. I spritzed a white background with smooch spritz and shimmerz, I made the lemons extra juicy by adding stickles, and gave my transparency cloud a little pop by heating it with a heat gun just a little--enough to make it crinkle a bit.
I made the tree really pop by layering with foam adhesive. It looks so 3-dimensional in person.

Here's a layout that I created featuring my little cuties. Again, a little word play with the "pears". My original idea for this layout was to name it "Wild Pair" to go with hedgies and the pears, but I came across this photo and well...those eyes...need I say more?
See...no pink! I pumped up the texture with embossing and border punches. I also distressed the layered strips under the photo.
here's a close-up of the distressed layers
Can you tell Donovan was not happy with me in this photo? He sure knows how to put on a sour pus face...I guess he earned it honestly!
This is an 8x8 layout (man this thing is tiny compared to what I'm used to). I made it very simple so as to not overwhelm the wallet size photo. It seems that I am on a bit of an embossing roll lately! I can't help myself, I love the texture that it lends to my projects.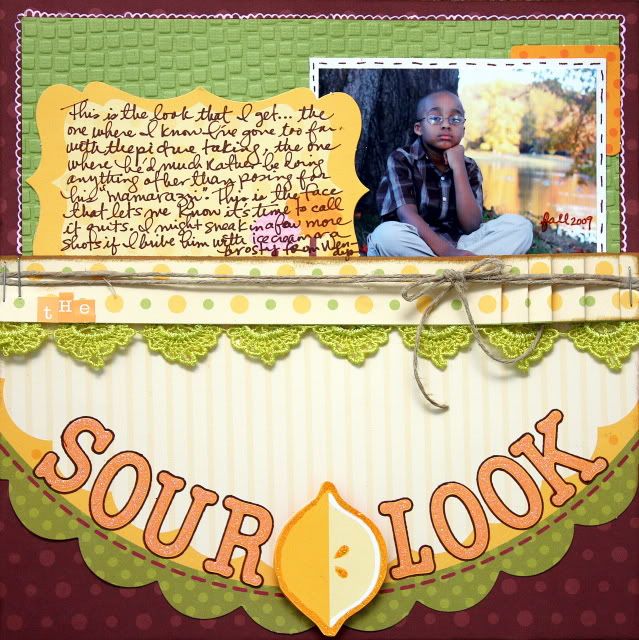 Last but not least, is my My Little Shoebox house. You may remember that I created a winter house not that long ago, now this one is just perfect for spring.
Did you notice the window treatments? I simply layered 2 of the photo corners from the diecut sheet on a piece of vellum. Cute right? It looks super cool with one of those battery operate tea lights inside.
Check out the adorable little hedgehog frolicking in the backyard. I cut him and the trees from patterned paper and created the "grass" by cutting slits in the circle diecut paper.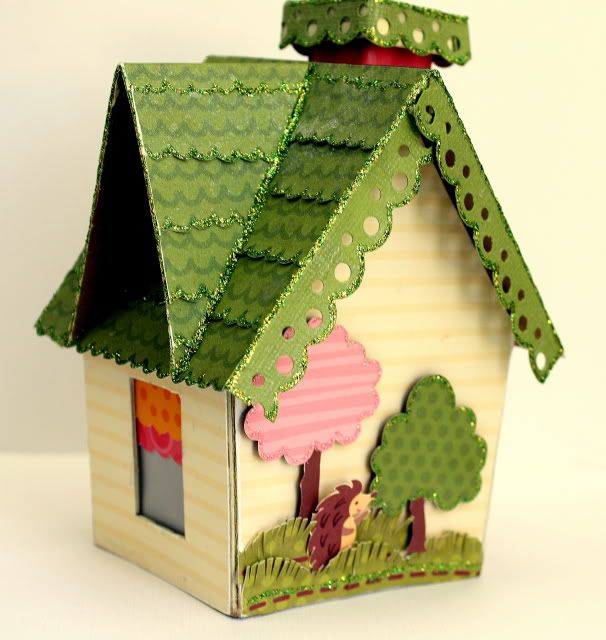 I hope I've given you some really cool ways to use MLS papers! You'd be surprised at all of the fun things you can make if you look a little deeper! If you're at CHA, stop by the booth for an up close and personal look at all the work created by the design team. If you're not heading to CHA, you can still view all of the projects on the
blog
.