I had an awesome Christmas holiday, I hope you did too! I was thoroughly tired out and frustrated from all the last minute shopping, the cooking, the decorating, the wrapping, but when all was said and done and I was in the company of family, all was good!
Troy, the boys and I spent the morning like we always do, opening presents and then I made a big breakfast and prepared for our trek to my in-laws' for Christmas dinner. I loved watching the boys' expressions as they opened their gifts. Donovan was not too thrilled with the clothes, but he loved his programmable robot, dinosaur castle, and all the other toys Mommy, Daddy, and Santa bought him. Xander is so infatuated with Mickey Mouse, Spongebob, and Elmo, so of course Santa hooked him up! When he looked under the tree, first thing he saw was "Mih Mou" (Mickey Mouse)!! Of course, before starting anything, we all wished Jesus a happy birthday.
When we arrived at my mother in laws', it was like Christmas all over again. Donovan and Xander had big sacks of toys and clothes and Donovan got the much anticipated Wii! That made his day because that was the main thing on his list.
My sisters, niece, and nephews came up to my house for our Day After Christmas celebration. It was a little chaotic, but fun. We exchanged gifts, laughs and enjoyed some delicious Italian food prepared by my sister and I (chicken parm, beef and spinach filled stuffed shells, BBQ meatballs, veggie and regular lasagna, sauteed spinach, and a salad...YUMMY).
I ended up with 2 visa cards, gift cards to Macy's, AC Moore, the movies, amazon.com, and Applebee's, a digital photo key chain, flannel pajama pants, scrap goodies, a necklace...can't wait to go shopping!!
Today is the second day of Kwanzaa, Kujichagulia (self determination).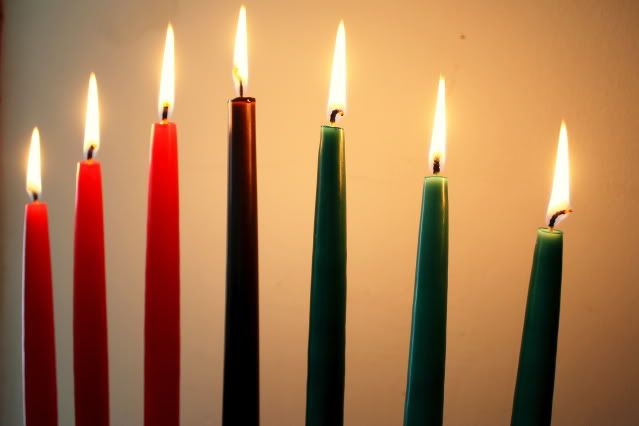 I have 2 projects to share; the first one is a Kwanzaa layout that I was asked to create for My Mind's Eye's blog. If you go to the blog, you can download step by step directions to re-create this layout.
This layout, "Kwanzaa Celebration" features MME's The Merry Days of Christmas line. I started by weaving red and green papers to mimic the mkeka, the straw mat that holds all of the Kwanzaa symbols. I hand cut the kinara and used a Martha Stewart punch for the candles.
I took pictures of my kinara lit for each of the 7 days of Kwanzaa; before printing them out, I typed the Swahili name for each day and it's meaning across the kinara.
I was asked to include a childhood picture of myself on the layout if at all possible. I didn't start celebrating Kwanzaa until I was 18, so I dug up a picture from that year and added it to the layout. I think this was the last year that I rocked a bang! LOL!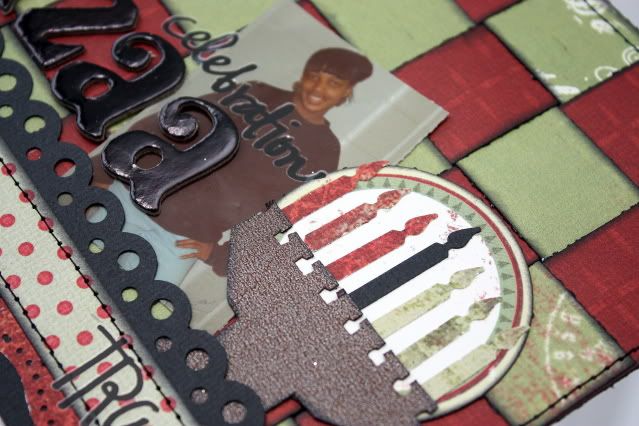 I braided red, black, and green floss together for an added special touch. I created a pocket out of the journaling tag--on the outside, I wrote the meanings of all the Kwanzaa symbols. I then journalled my early memories of celebrating Kwanzaa on a tag and tucked it in the pocket.
This next project was created for Purple Cows. You can download step by step instructions from
the blog
. I had way too much fun creating this little house...as a matter of fact, I have 2 more...I think I feel a village coming soon!
I came across these
"Iddie Biddie chipboard houses"
while at this past CHA summer. Their booth was right across My Little Shoebox's booth--we had the opportunity to speak with the owner and she gave us a sample to try out. These little houses are addictive!
I used Purple Cows #1040 2-in-1 trimmer and designer blade #2812 to create the shingles along with partner product from clearsnaps, glue arts.
supplies: Patterned Papers- Pink Paislee- Tinsel Town, October Afternoon; Iddie Biddie Chipboard House- Retired…Let's Do Lunch; 24 gauge wire; White cardstock- American Crafts
Glitter (white, silver) - Pink Paislee, Bo Nash; adhesive (Zip Dry, Elmer's Craft Bond, Glue Arts, 3L, Glue Dots International); Stardust stickles- Ranger; Brad, floss- Making Memories; Lace- Pink Paislee; White Acrylic Paint; Iridescent Paint- Shimmerz Paints; Sealant- Creative Imaginations; Icicle Border Punch- Martha Stewart; Scraps of vellum