It's that time of year again, y'all!! Can you smell the excitement in the air? The Craft and Hobby trade show (CHA) is right around the corner. In a week, I will be on a plane to Anaheim, CA, drooling over all of the crafty goodness. My first time attending CHA was this past summer and from what I've heard, the Anaheim show is a lot bigger. I can't wait...I get to meet some of the Purple Cows DT members for the first time and I get to hang out again with my crazy girls from My Little Shoebox. Those girls are so funny, they'll have you peeing in your pants...just a wee bit! LOL!!!
I'll be working both booths, so if you're at the Anaheim show, come on by, I'd LOVE to meet you and take pictures and all that good stuff!
So...now onto my My Little Shoebox goodies...
There are 6 new lines and 6 new colors of the mini alphabet. You can see all the new lines
here
and some of the new projects created using the new product
here
.
I actually had the chance to work with 2 lines this time around, Imaginary Friends and Li'l Critter. Here are the projects I created with Imaginary Friends. My assignment was to make 1 project, 2 cards, 1- 12x12 layout and 1- 8 1/2 x 11 layout.
On "Imagination Mover", I wanted to demonstrated some of the different things you could do with the large cutouts. I embellished with flowers, buttons, and stickles; used my fingernail to curl some elements, and made other elements 3-dimensional by adhering to pop dots.
My Donovan has a very active imagination, as does most 5 year olds, so I wanted to make this page look like it jumped right out of his imagination! I punched stars out of scrap paper and put them on the black background, then sprayed it with silver foil smooch spritz for a very sparkly look. I removed the stars and left behind a subtle masking effect.
here's a close-up
This card was FUN, FUN, FUN!! I ran the brown cardstock through an embossing machine to pump up the texture and the spayed it with some truffle shimmerz.
The top right photo is how the card looks when it's completely closed. When you open the door my "very scary" little monster is there to greet you with a "boo". The inside of the card reads, "have a monster-rific day!" This is great for Halloween or any day of the week!
This little pink monster makes me smile, so this card came pretty naturally. LOL!
I am soooo not accustomed to creating 8 1/2 x 11 layouts. I think I've only created like 4 in the nearly 6 years I've been scrapping. There's just not enough space for me, but I tried my best!
I printed this photo of my father-in-law with the boys from Christmas 2008. He had T-shirts made--Xander's had "I'm the boss" with his photo on it, Ronald's had a picture of Xander and read "Pop-pop says I'm the boss", and Donovan's had his picture on it and read "Pop-pop's Monster". I had to get a picture...of course none came out because the 3 of them wouldn't look at the camera at the same time, but I thought this one was a good fit for the title! Just look at the expressions on the boy's faces! LOL!
Last but not least is a Monster truck banner I created using a Maya Road mini album.
I layered punched circles and some old Li'l Davis Design bottle caps that I smashed on the trucks and then added chipboard alpha. I cut out a couple of monsters and adhered them to the back of the trucks. I think this is going to look great in the boys' playroom...once we get it together!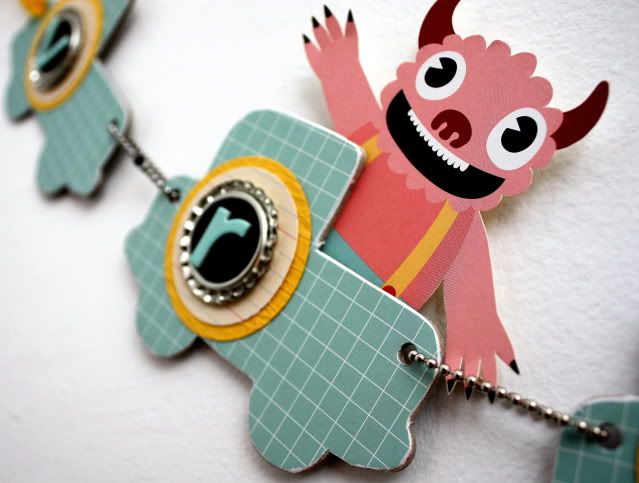 Have a scrap happy day! I'll post other projects later this week...thanks for taking a peek!