...and I just can't hide it!!! This time tomorrow, I will be in Florida taking in all of the Disney sites! I've been invited down to the African American Mom Bloggers Mixer and am so looking forward to meeting and networking with other attendees. There seems to be a lot in store for us for this weekend...did I mention that I was excited? Man I feel like a kid in a candy store! I have absolutely NO IDEA how I got invited or how they came across my blog, but I'm counting my blessings that's for sure. Thank you God! May has truly been an exciting month for me!
Of course before I go, I still have a mountain of responsibilities before I jet off sans the hubster and kiddos!
It's a very busy day for me since I didn't do the things I had planned to yesterday. I washed my hair this morning dropped the boys off, ran to the grocery store, ran to the mall (bought Angels and Demons to read on my trip). I'm about to clean the bathroom and kitchen, I need to give myself a pedicure, pack for my trip, make chicken and veggies for dinner tonight with enough leftovers for tomorrow, and spaghetti sauce to freeze so all Troy has to do is cook the noodles and mix everything for dinner Saturday and Sunday...you know so they don't "starve" while I'm gone. I need to pick up the boys and then head to Trenton to take them to the circus (I heart Ringling Brothers)! Phew, hope I get it all done!
You know I've already gotten the "don't go" pleads from Donovan. He's giving me the eyes and everything, but I gently let him know that I will be back and I promised to bring him something back! Shoot, mommy needs a break and a chance to unwind and concentrate on herself so she can be a better mommy to her babies. I'm going to miss them like crazy, though!!!!!
Just look at them together! I took this picture Sunday morning from my scrap table. We had just finished breakfast and headed down to the basement, Donovan asked for a juice box and decided to share with Xander. He's such a generous little boy!
Looking at this picture, I think of how I wouldn't have been caught dead not giving Donovan 100% juice at this age, now here's Xan slurping down a Hi-C and I didn't even flinch. Funny how relaxed my standards have become....or maybe I just don't see the point in getting so uptight about certain things that don't really matter.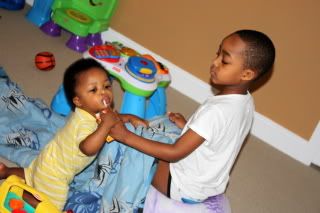 I'm going to miss my babies, but I'm also going to have a BALL!!!!! WOOT WOOT!!
I'll make sure to take a ton of pics!