It took me a while to recoup from my trip to California. I think the jet lag coupled with the red eye flight and the busyness of CHA did me in. Not to mention the fact that I had to jump right into mommy mode and birthday celebration mode pretty much as soon as I arrived home. After a few short stolen naps here and there, I'm finally feeling like I've caught up to myself...
This past weekend, we had a celebration for Donovan. On January 29th, he turned 6 years old and let me tell you, this little boy knows how to celebrate. A very simple celebration turned into a weekend event! Instead of having a party, Donovan opted for a school party and a trip to Chuck E. Cheese's. Xander and I sang the "Happy Birthday" song to him in the morning and I sent cupcakes, goodie bags, and juice for his classmates. My sister and her kids came up Friday evening and stayed the night. We all went to CEC's Saturday afternoon and then came back home to more birthday cake. On Sunday, my in-laws came up and took us to dinner at Applebee's, Donovan's choice. The entire weekend was a lot of fun and I'm so glad my big boy enjoyed himself!
I took a couple of days off from scrapping, but I'm back at it!!! It feels so good to create something, just because...no deadlines, no restrictions on the supplies I can use...just dig in my stash and play...just for me!
My friend Doral took this pic of the boys and me at the Kwanzaa celebration in our town. Although Xan is not looking at the camera, I like the photo. I created this layout to let them know that I love them "every single day of every sinle year", which is how I came up with the title.
I had fun playing with smooch spritz on this layout. OMG, this stuff is ADDICTING! All you need is a litte spray...it's bursting with color and shimmer...I LOVE it!
this layout was created using a sketch by Bree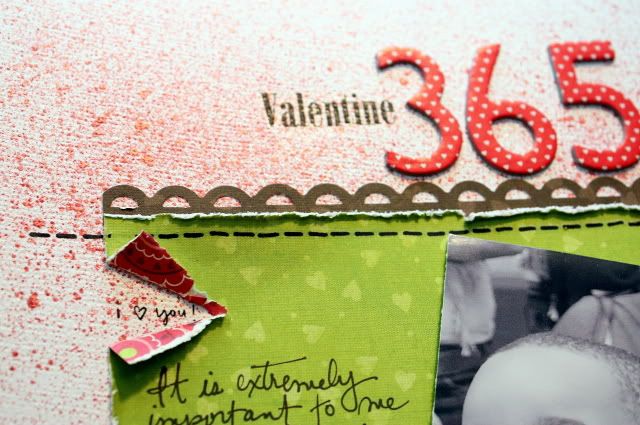 I had fun playing with all of my pretty, girly stuff today. Is there any combination more beautiful than Webster's Pages, Prima flowers, lace, and Frosted Grape smooch spritz? You ever create something and love it instantly? Yeah, this is that project for me...my current fave! Kathering Song took this photo of me; I was modeling her handmade jewelry for a catalogue and I love it. I need to get some really cool 12x12 frames.
I used vanilla smooch on the butterflies and flowers
Finally, I had a chance to play with the new October Afternoon lines. I created the banner from one piece of patterned paper and then added Bella Blvd's new coin alpha to spell out the title. The photos are of Donovan's birthday celebration.
journaling: For your 6th birthday, you received 3 new games for your Wii and a Wii controller, money, thumb wrestling finger puppets, a watch, and a Pokémon toy. You were treated to an afternoon at Chuck E. Cheese's and dinner at Applebee's. Overall, I'd say it was a perfect weekend celebration! January 2010
Thanks so much for stoppin by! have a scrappy day!