I don't know about you, but I love it when I find a really good sketch! Sometimes I'm in the mood to scrap, but the mojo isn't flowing, so I turn to some of my "go to" sketch sites for inspiration. Other times I need a blue print to help spark my creativity. I love how versatile sketches are and that they can be used as a springboard. Sometimes my projects end up looking nothing like the sketch that I started with.
I got all excited when I saw that
scrapfreak's
February class is Get Sketchy! Here are the details of the class:
There are 10 sketches in total, but 20 fun examples!
I will post one sketch per day for the next 10 days so you will have all 10 by the 10th.
The designer of each sketch is listed. We love to see you share our classes on your blogs and other sites, but if you do, please be sure to give credit to the sketch artist
To qualify for a fun RAK from me, you have until the 28th to finish at least 4 layouts. Every layout past the 4th gives you an extra chance to win.
Do all 10 sketches by the 28th for a special something!
You don't officially have to sign up, but I love to see who is playing, so post here if you are and I will add you to the list
Feel free to rotate sketches, add or subtract items, change the number of photos, etc. Make it work for you!
We really focused on multi-photo sketches to help you catch up on all those photos! So get some stuff printed But you can always replace a photo with PP or a journaling spot if you want to do single photo layouts.
I've already completed 5 sketches (1 posted previously) which equates to 15 photos that have been cleared off of my scrap table! YES!!
"Yummy Cupcakes" is based on a sketch by Amy. I used my fave smooch spritz and 3 different Bella Blvd lines (Flirty, Sweet Celebration, and Estate Sale) to create this layout of Xander enjoying a cupcake (well the icing anyway).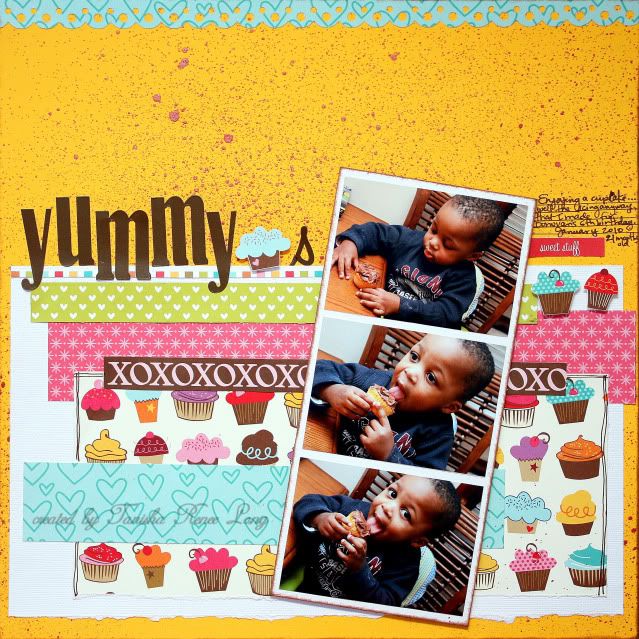 (Trimmings) is based on a sketch by Bree; I flipped some of the elements and added different size photos. So happy that I was able to put those Making Memories Christmas papers to use.
"Not So Scary" is also based on a sketch by Bree. I used Pink Paislee's Twilight papers to highlight photos of Donovan on his second Halloween. He's the same age in these pictures as Xander now. I remember ringing the door bell so he could say "frick a cheat!" "Put it in my bucket"!
"Eye Doc" is based on a sketch by Cherie. I mixed some new October Afternoon Papers with some existing Jillibean soup papers and new Bella Blvd chipboard to create this layout about Donovan's first trip to the eye doctor.
He is such a silly boy! Instead of smiling for the camera, he opted to make faces! That's so Donovan!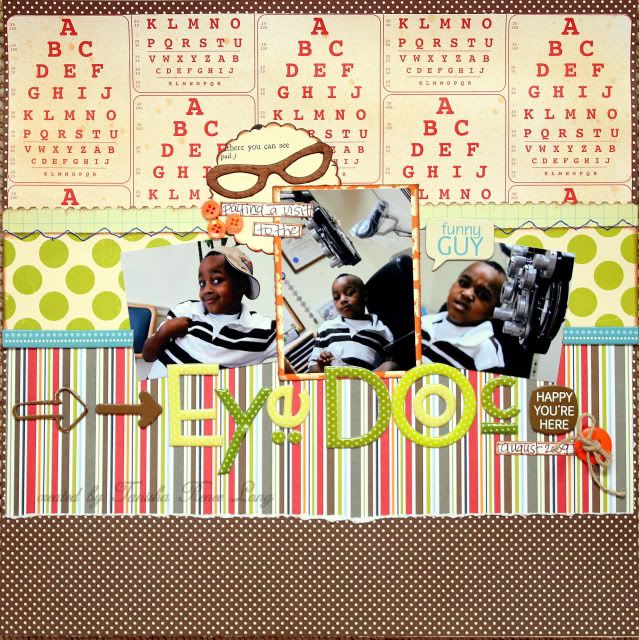 Lastly, is a layout created using Blue Media's February sketch. Bo Bunny's Love Bandit papers really offset the the photo of the boys and me nicely. Look how tiny Xander was!! I can't believe my baby will be 2 years old in 2 months!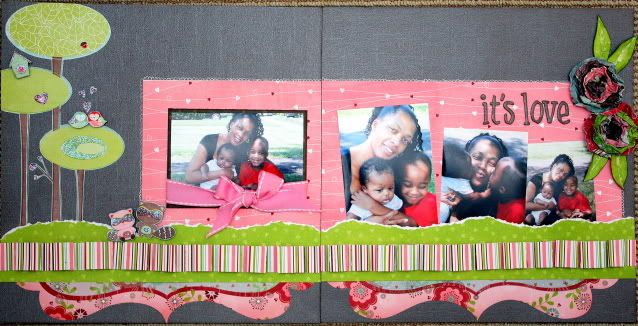 Thanks so much for popping in! I hope my projects have inspired you to get sketchy with it! LOL! Just remember to give credit.