Five years ago today I gave birth to this beautiful little boy. He has bought so much joy into my life with that cute little devilish smile and inquisitive nature. No one could have ever prepare me for the amount of love that has poured from my heart since he entered my life. I love him more now than I did the day he was born...he is the light in my life!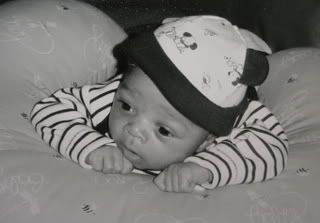 Happy birthday big boy!!! I hope you enjoyed your day!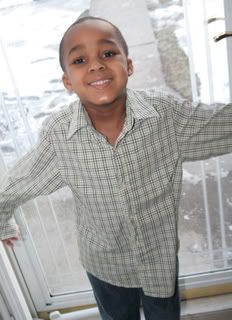 This is the birthday cake that I sent to preschool for Donovan and his classmates to enjoy. He knew exactly what kind of cake he wanted- chocolate with his name on it in blue writing (this one is half and half)! I treated all of his school mates to pizza, ice cream, and goodie bags, too! Since this is his last year with his preschool mates, I figured he may as well have a great party!
Donovan was so excited when he came home to birthday gifts and balloons and over the top excited when he he saw his picture and received a birthday wish from Mommy, Daddy, and baby brother Xander on the Sprout channel!!! He told his grand mom (with a huge smile on his face) "I was on TV!!" "I was on TV!!" He also received lots of phone calls from loved ones wishing him a Happy 5th Birthday!
I hope all of his birthday wishes came true!