So what's a girl to do? I still have no
mojo
, yet I'm yearning to scrap something...anything! Luckily for me Serendipity Scrapbooks is having a
winter

sketchfest
all month long featuring tons of sketches from all over the scrap world. Gotta love sketches!
I wanted to feature all of these cute pics that I took of
Xander
Christmas morning on 1 LO, so I went with a 2-pager. The first page was created using a sketch from
pagemaps
, the 2
nd
is my own design.
Can I tell you I ran out of white cardstock? Who does that? I had 1 plain white bazzill and 1 white bazzill bling...I didn't feel like running to the AC Moore, so I improvised! I went into my super old stash...those paper packs that I bought from Michael's way back when I started scrapping nearly 5 years ago and used the back of the paper for my white background. I think I may do that from now on...I may as well get some use out of it!
Here's a close-up of the first page-- this was my favorite photo from the entire shoot. Doesn't he look so innocent and sweet? Love my baby!
close-up of the 2
nd
page
This LO was also created using a
pagemap
sketch. I finally found a use for all of those miscellaneous tags that were
cluttering
my stash! One thing I love about Basic Grey is that you can always coordinate old lines with me ones. I used Fruitcake, Stella Ruby, and Boxer here along with some old and newer pink
paislee
stuff.
This LO was created using a sketch designed by serendipity scrapbooks owner, Kristen Simmonds. I love her sketches!
Not too sure how I feel about the colors on this one, but it's done...the photos are darn cute
dontcha
think?
As you can see,
Xander
loves those fingers!
Check out my new toy! Long gone are the days when I have to wait until daylight to photograph my projects!
Woohoo
!! This makes mama happy and it wasn't that expensive...the shipping is crazy, though because the box is so big. Wanna know where I bought it? Click
here
!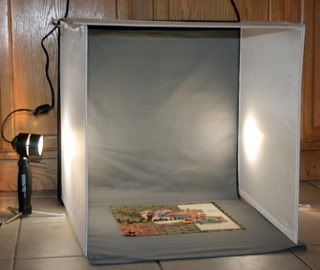 Thanks for taking a peek!