OK, so it's the new year and I plan to slow it down for 2009!!! Last year, I tried to do everything...I rushed around and rushed around and finally I have to say ENOUGH!!!! I am a natural busy body, but I am thoroughly exhausted! You want to know how I bought in the new year? I was fast asleep! I had no desire to stay up and watch the ball drop, I mean once you've seen it...you've seen it!
I played Uno and Chutes and Ladders with Donovan, watched a little of Dick Clark's Rocking New Year's Eve special, made myself an apple martini to toast in the New Year and then went to bed!
I hate making resolutions because eventually I end up breaking them. There are however a few changes that I need to make in my life. There are 2 major things at the top of my stress list, I need to either change them or get rid of them, not matter how difficult it may be. Of course this is easier said than done since it could change my life drastically.
I need to be proactive with finding a new job. April marks my 10th year at my job and I've hated it for quite some time now, so I need to get on the ball...seriously!! There's nothing worse than forcing myself to get up and go to work everyday, knowing how much I don't want to be there. I love the people that I work with, but I hate how redundant my job is and the fact that there is nowhere for me to go! I hate the feeling that my skills have been rendered obsolete. I don't know who'll be hiring in this economy, but I'm going to search nonetheless!
I need to get on the ball with losing weight, which means I need to "just say no to sweets"! I AM going to lose at least 25 lbs this year. My plan is to shed 35 lbs by my 35th birthday in August, but something is better than nothing. My girls from high school, my sister, and I have started a weight loss challenge. We're each putting $25 in the pot and the person who loses the highest percentage of weight between Jan 5th and June 5th (our next spa weekend) gets the money. Oh, it's on now...they've tapped into my competitive nature and I wanna win, if only for the bragging rights!
I also NEED to get my finances in order and stop spending so frivolously!! 'Nuff said! There are more changes, but these are the things that I MUST change, NOW!
Hope you had a great New Year!!!
--------------------------------------------------------------------
Now on to the scrappy stuff! Dream Girl's Challenge # 19 is up!! To begin our first challenge in 2009 we decided that it would be perfect to create a layout using the word "NEW" in the title or journaling.
Product twist: Layout must be Black and White
Technique twist: handmade embellishment being the only additional color.
Click
here
to see what the rest of the Divas created!
journaling: Xander's new to the whole snow thing, but 'm sure next year big brother Donovan will introduce him to snow angels and snowball fights.
The theme for this month at scrap-diner.com is "The Simple Things". In keeping with the theme, I created a quick and easy technique that will help you use up one of the SIMPLEST items in your stash...STICKERS!! All of those random alpha stickers that you've had since you started scrapping are going to find a home in your albums. When you complete this technique, you will have a faux embossed piece of cardstock that you can use on your layouts and projects.

Supplies:
1 sheet of cardstock
several different packages of old alphabet stickers
acrylic paint
sponge brush applicator
spray adhesive
scissors


TIP: Cardstock stickers work best with this technique. If using stickers with a slick surface, just lightly run a sanding block across them to scratch the surface. This will help absorb the paint.)

Before beginning, remove all of the alphabet sheets from the packaging so they are readily available to peel off when needed.

Lightly spray the piece of cardstock with adhesive, working in sections so the adhesive doesn't dry before you get the stickers down. (This step helps keep the stickers down so they don't peel up after you apply the paint.)

Randomly apply the alpha stickers to the entire surface of the cardstock. Allow some stickers to hang over the edge for visual interest. Trim overhang with scissors. In my example, I put my title letters together first and then randomly adhered the rest of the alpha to the cardstock.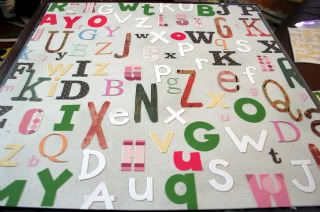 Use the sponge applicator to apply paint to the entire surface. The lighter the paint, the more coats you will have to apply. Just be sure to allow each coat to dry before applying the next. I used 3 coats of white paint in my example.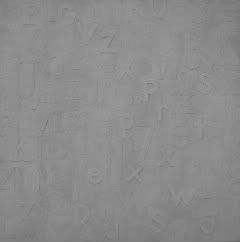 here's a closer look:


Once the final coat is dry, use as you wish on any project! For my example, I used a piece of die cut cardstock to trace the shape I wanted, inked the edge and adhered to a sheet of patterned paper. I then traced my faux embossed title letters with a black pen so they stood out from the rest.
It doesn't get any simpler than this, right?! Have fun creating your own look!!
journaling: you can add, subtract, count to 101 (to 10 in Spanish) and understand negative numbers.
You can spell: go, stop, cow, pig, dog cat, exit, car, one, cake, fire truck, the, & red all by yourself
You've know your shapes forever including the complex ones like crescent, hexagon, and octagon
You're learning to tell digital time, read numbers, and prices correctly
You know lots of Spanish words
You question everything and have a memory like an elephant!
Stay smart baby, learn something new everyday!
Thanks for taking a look!