I'm baaaaaaaaaaack!!!!
To say I had a great time on my vacation (a birthday present to myself) is indeed an understatement. I spent 8 glorious days aboard
Carnival Victory
with a few friends (we were actually a group of 6 within a group of 77). It was something that I desperately needed. It's amazing how rejuvenated I felt at the end of my trip. I think everyone needs a little getaway every now and again.
I missed my boys like crazy while I was gone as this was the longest I've ever been away from them; but I can't lie, not having to cook, change diapers, or here my name called 50 million times a day for 8 days was a nice break.
I laughed like crazy, awakened early, went to bed late, watched movies under the stars, zoomed down a giant water slide, danced in one too many line dances, including a really, really long conga line, and ate and drank a lot...and I loved every single second of it. This was my 5th cruise, my 3rd with
Carnival
. I've always had pretty good experiences with cruises, but there's just something about
Carnival's
party/dancing good time atmosphere that keeps me coming back! The service on board is unparalleled!!
Our group flew to Puerto Rico to board the ship. We visited: St. Thomas, Dominica, Barbados, St. Lucia, St. Kitts, and St. Martin/St. Maarten. I'm happy to say that I actually came back home with money in my pockets. I saw a T-shirt in one of the shops that read "same shit, different island" which got a little chuckle out of me because it pretty much summed up the shopping atmosphere. I did purchase some beverages that you have to be over 21 to drink, LOL, a couple of dresses for myself and some things for the boys, which they loved. I took just over 500 pictures, but by the time I deleted some, I'm down to about 395. I'm sharing a few here in this post.
St. Kitts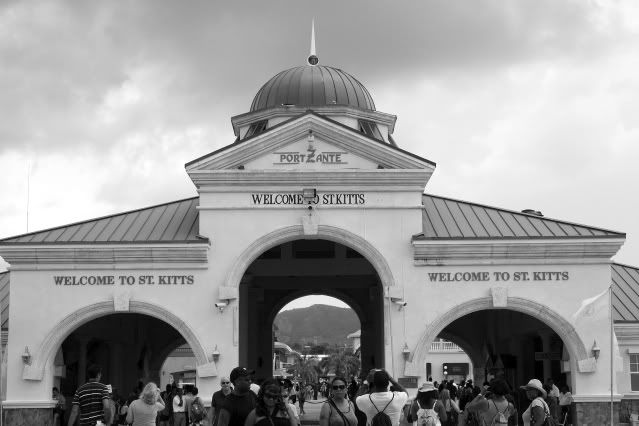 A sunset I captured after sailing away from St. Kitts
Leaving St. Maarten
-- I toured both the French and Dutch sides of the island and visited a butterfly farm. I'll share butterfly pictures in another post.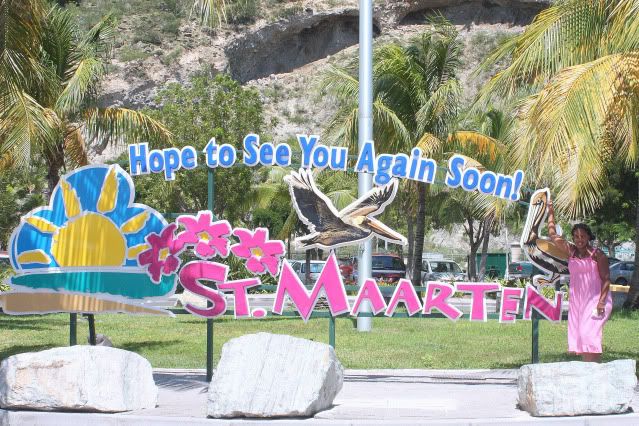 Donna, Cherre, Champagne, and me in St. Lucia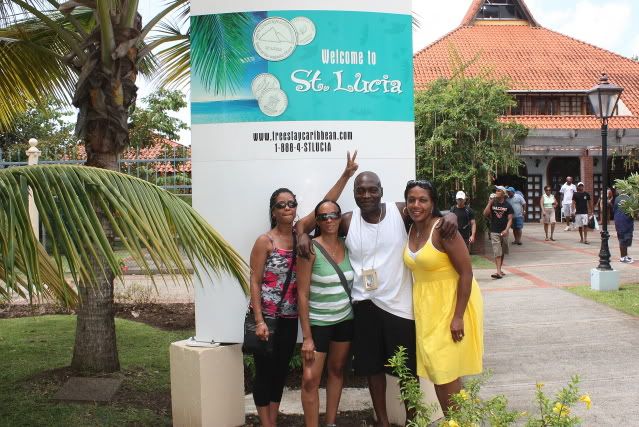 I saw this beautiful rooster on my walk to the flea market in
Castries, St. Lucia
A fisherie in Castrie, St. Lucia
One foggy morning on the way to St. Kitts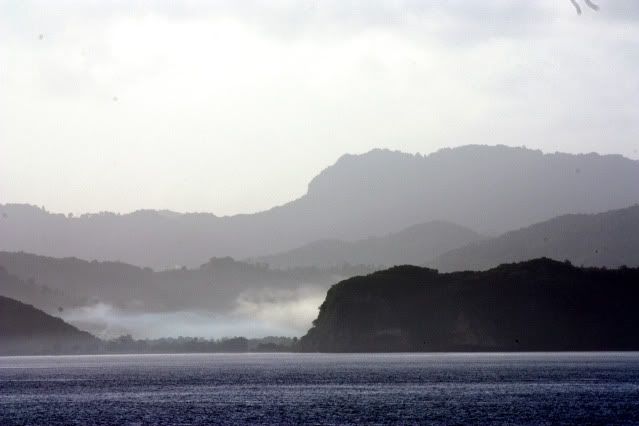 Fun Ship Freddy joined us for one of the deck parties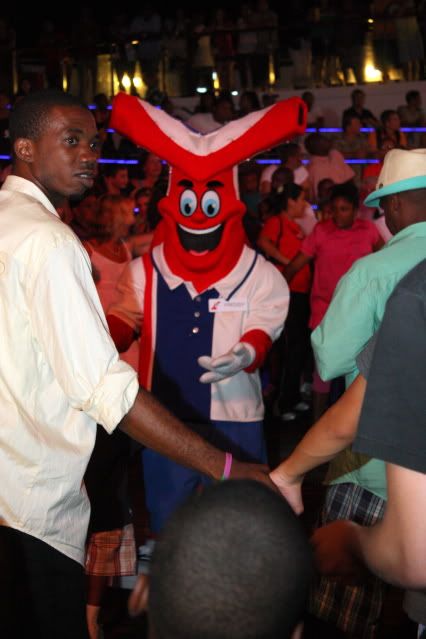 St. Kitts from the balcony of my cabin
Captain's Night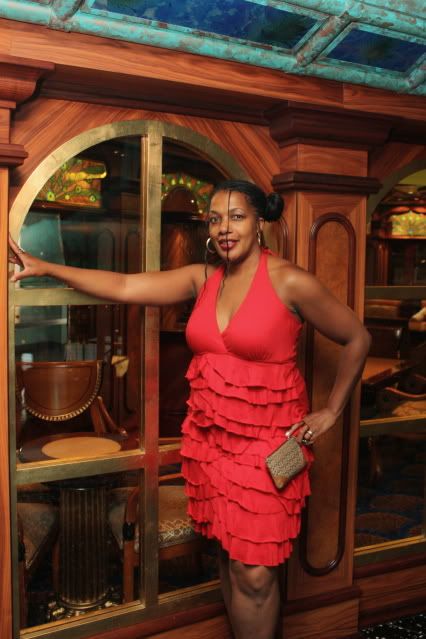 One of the many delicious meals that I ate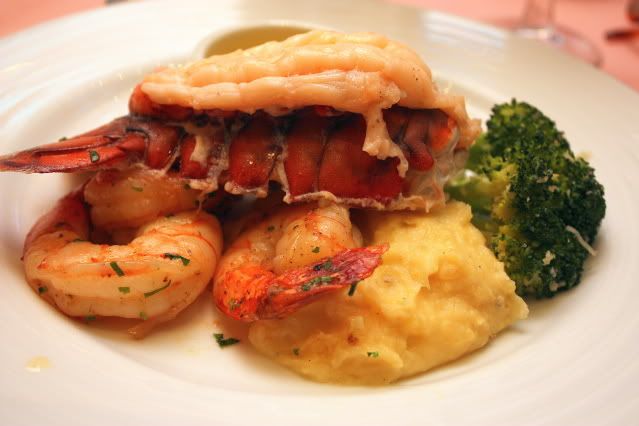 After 7 years, I decided to say the heck with the flaws, I'm wearing a 2 piece damn it!!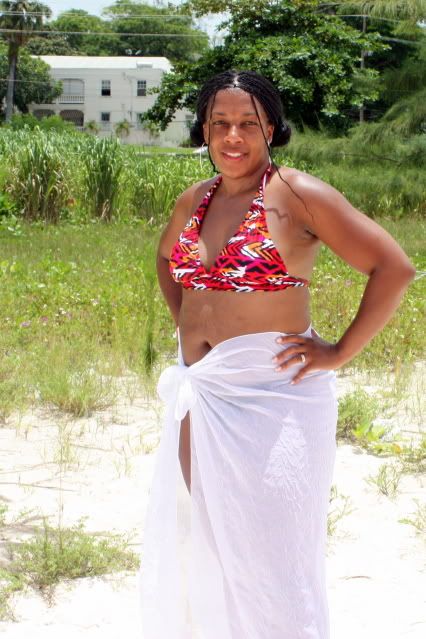 Dominica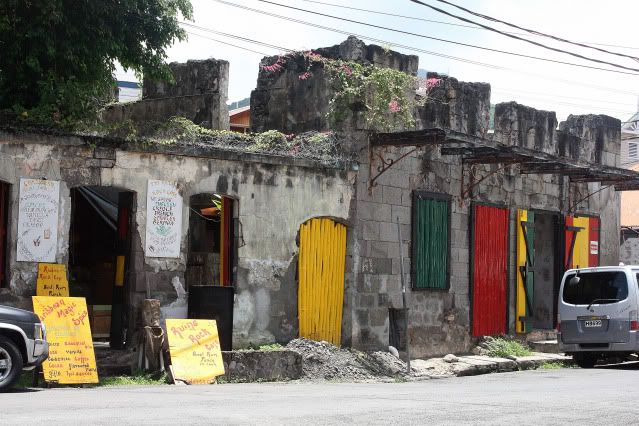 Dominica from the Lido deck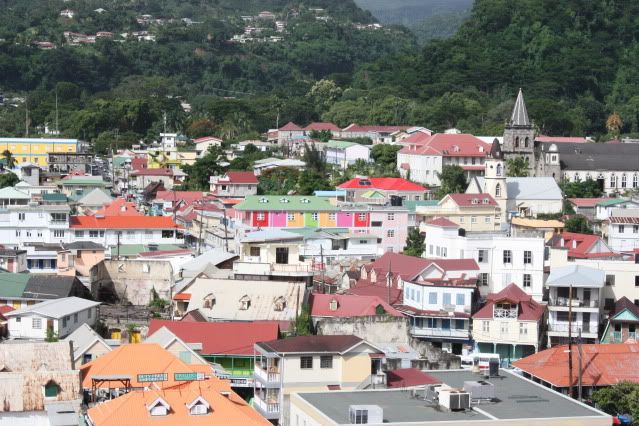 A steel drum player
-- his smile is infectious and he sort of looks like Steve Harvey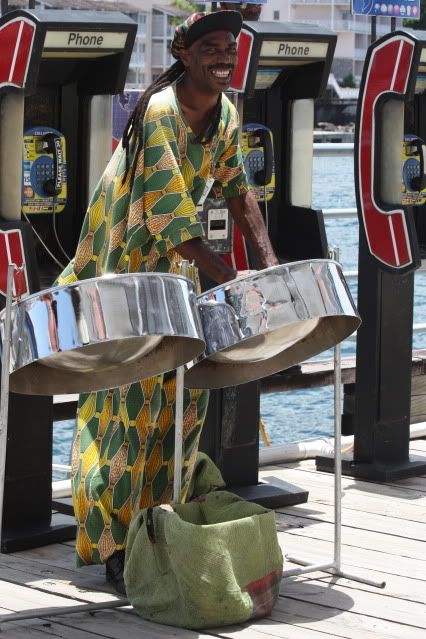 Our cruise ship taken from the tour we went on in St. Thomas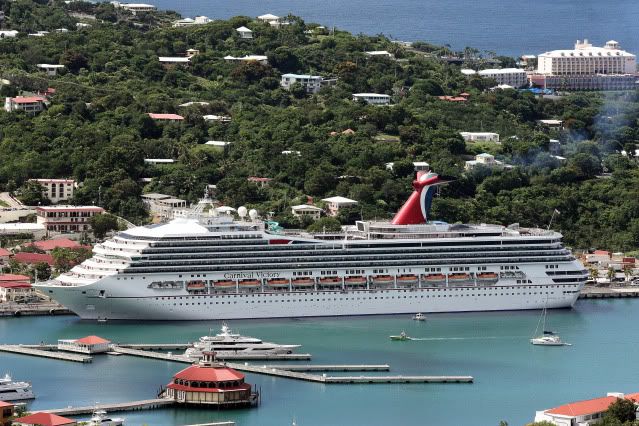 me in St. Thomas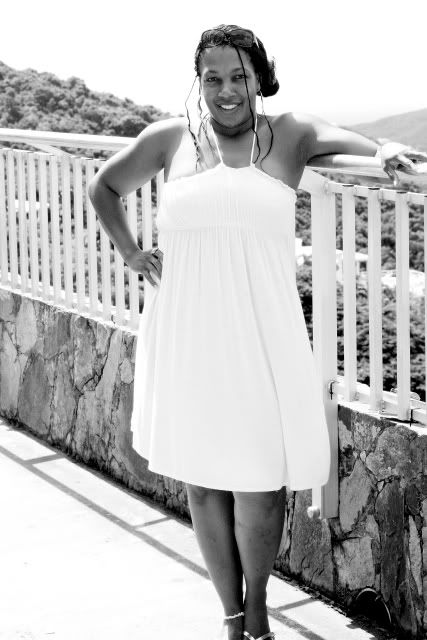 Sunrise on the way to St. Thomas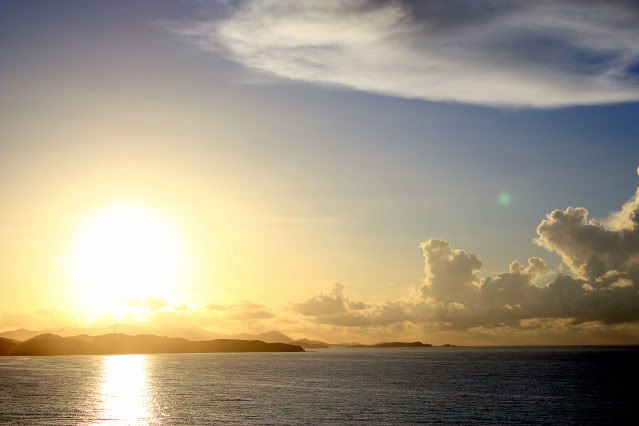 As you can see, I had a wonderful time!! There was one incident that occurred on my way back home...I was going through security at the airport in PR and I realized that the main diamond from my engagement ring was gone. I was so upset because I had worn that ring just about everyday for nearly 11 years, but there was really nothing that I could do about it. It was a big deal, but not enough to put a damper on my trip. I can only hope that one day Troy takes it to the jeweler for repair.
Thanks so much for stopping by my blog today. I hope you've had as much fun looking at the pictures as I had taking them. I have more from the butterfly farm to share this weekend.