Huuuuh...I've been feeling a little nostalgic lately. I always get this way around this time of year; there's something about Christmas that always transports me back to my childhood, growing up in Camden... helping my mom decorate the apartment, the smells of cakes and pies and turkey and lasagna...mmmmm!
Every time I think of decorations, I remember the year I was DETERMINED to remove a painted nail from our front door! Every year prior, this nail bothered me...it always punctured the red foil that my mom picked out to cover the door and it just plain got on my nerve. So this one particular day, I decided to get the hammer, stand on a chair and get this nail out if it was the last thing I did. My mom stood behind me, cautioning me to "be careful" as I twisted and pulled and twisted and pulled. Finally the nail came out......
Yeah, it came out with such a force that I was sent flying backwards! I fell on top of my mom, we both hit the floor, the chair fell on top of me...the hammer went flying across the room....it was a funny sight! My mom and I laid on the floor for about 5 minutes laughing our butts off!!! But the most important thing is....the nail came out!! LOL!
I journalled a few Christmas memories from my childhood on this LO created for my DT at scrap-diner.com. I used the pagemap from Basic Grey's December newsletter and products from the Wassail line. This is actually a picture of my tree from last year, but I used it to journal past memories since I don't have any old pictures.
I cut a 12x12 piece of cardboard for the background, sprayed it with gold glimmer mist, dry brushed it with acrylic paint, and lightly inked it. It's so sparkly IRL!
journaling- I remember:
ordering Chinese and staying up late to help decorate
mom making lasagna and pineapple upside down cake
opening one gift at 8:00 pm on Christmas Eve
getting at least one board game every year
using cotton balls to mimic snow
mom playing Christmas records
candy and walnuts on the table
I crumpled the lollipop flower for extra dimension.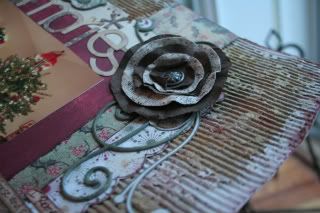 I added staples, lace and twine for added texture.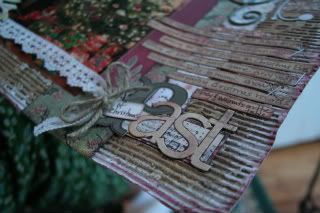 I created this LO for the Pink Lady lift at scrap-diner. Every month a member of the site is put in the spotlight and other members are encouraged to show her some love by lifting one of her projects. I lifted this LO by Wendy. I love the bold circle pattern she used and the way she matted the photo and journaling. I replaced the single embellie from her with a cluster of embellies and added some paint.
journaling: when my sisters and I get together, this is what happens. We get silly, talk junk, and crack on one another! What would I do without these goofy girls? TT and Nett 11/27/08