**IF YOU FOUND YOUR WAY HERE BY WAY OF BO BUNNY'S BLOG HOP...WELCOME! SCROLL DOWN TO THE PREVIOUS POST FOR THE INFO AND GOOD LUCK IN THE DRAWING**
Dream Girls
new challenge is up! As always, I had a ball with this challenge!
Prompt: the quote "Live, Love, Laugh" - use these words somewhere on your creation.
Products: We want to see a piece of fabric (at least 3x3 in size) AND the colors RED, TURQUOISE, BLACK & WHITE
Technique: Cut up some patterned paper and use that cutout to embellish your project
Here's what I created:
journaling:
love
like you're not afraid to get hurt
laugh
everyday, even if at yourself
live
life to the fullest
Here's a close-up of the layout! I used the soon to be released product, Shimmerz Spritz Shimmering Spritz. This product has some MAJOR shine to it as you can see here unlike anything else out there on the market!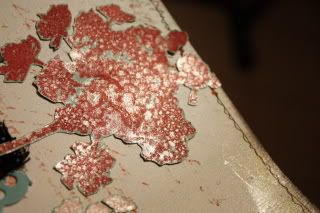 Want a chance to win some? Well head on over to
the blog
for all of the info you need! Hurry though because you only have until 11:59 p.m. Mountain Time on Tuesday, May 19th to get your entry in!
"We're getting ready for the re-introduction of an unbelievably fun product line: Shimmerz Spritz! Shimmering Spritz was the original shimmering sprayable coloring medium. Now 10 years later, Shimmerz Spritz is back and better than ever!You'll be wowed by the sheer amount of sparkle packed into each bottle. It's a great value, too. The price is surprisingly low.The product line will be re-released at midnight on May 20th. At that time, we'll announce all the details like the beautiful brand new colors. Of course, we'll also have plenty of samples from the Design Team to show you. (And, if you absolutely can't wait... check back here before then. We might have some sneak peeks for you!)"