So I can finally share my good news with you! I've been invited to be a guest designer for
Bo Bunny
this month!!! I have truly had so much fun playing with the Alyssa line. When I received my box in the mail, I literally squealed with delight. The colors are just phenomenal...pink, green, turquoise with a touch of black that makes everything pop...oh, and the ribbon...it's double sided! It really doesn't get any better than that!
I've created several projects using these beautiful papers, but they won't be posted to the blog until Monday. For now here's a little sneaky teasey of two of the projects that I created. Yes, I'm such a tease, I know! LOL! I can't wait to share the rest with you.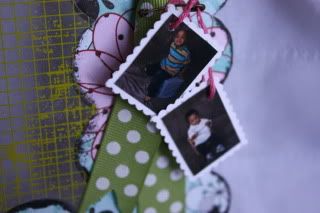 Here's a little about me:
I was born and raised in New Jersey, I went to college in New Jersey, and I currently work and reside in.....you guessed it, New Jersey! I guess you could say that I'm a Jersey girl, huh? LOL!
I am married, I have 2 little boys (5 and 1) who are my main scrap subjects, I love taking pictures, reading and traveling. I am one of those scrappers who loves doing BOM pages!
I am 34 years old and I still have "sleep overs", of course now we just call them Girl's getaway weekends! To me there's nothing better than a good old fashioned pj party with a few of my oldest and dearest friends!
I love anything covered in chocolate or cheese, scrapbook supplies, going to the movies, and just kicking back with my family!
So glad you hopped in for a visit...feel free to come back anytime!
-------------------------------------------------------------------
May has been one super spectacular month for me on the scrap front! Not only am I the guest designer at Bo Bunny, I have been spotlighted on
Graphic 45's blog
!!! Talk about a perm-a-grin, you couldn't hammer the smile off my face! I really feel so lucky and blessed to have been acknowledged in such a way. It is such an amazing feeling!
I scrap because I love it, it gives me a sense of completion every time I finish a project and makes my heart swell when I see my son already enjoying my pages. When someone else takes notice of my work, well that's just the icing on the cake and I am so appreciative!