Here are the projects that I created this month as guest designer for
Bo Bunny
! It's very photo heavy, but be sure to make it all the way to the bottom *wink, wink*.
I could have gone on and on creating with these gorgeous Alissa papers, but seeing as I have kids, a job, and a household to maintain, I had to pry myself from my craft table. LOL! I did manage to create 3 layouts, an altered gift, a card, and a mini album, though!
These photos of my boys and I were taken this past Mother's Day. I used a number of papers from this line along with 3 different border punches (another of my latest obsessions) to create this LO about my love for my boys.
journaling: Nothing could have ever prepared me for the love I feel for my boys. They are the axis upon which my world spins!
Here's another sentimental LO (feeling kind of mushy lately). I cutout out 2 of each circle, 1 was adhered directly to the Lo and the other was adhered on top of it's match with pop dots to add dimension. Buttons, stitching, and scrunched ribbon also add a lot of texture here.
journaling: Donovan and Xander always remember this: No matter how tall you grow nor how old you become, you'll always be my babies.
I made this heart flower pot for my mom for Mother's Day as a gift from the boys and she absolutely loved it! my mom is very crafty, too so she really appreciates the work that goes into a handmade gift. And this bad boy took me days to complete!
I first painted the flower pot and hearts pink, then created a template for the flower pot with white paper and cut it out. I then cut strips of paper and weaved them on top of the template, adhered and then stitched. That piece was then adhered to the flower pot with mod podge.
I used a die cut sticker to decorate the bottom of the flower pot.
Here are close-ups of each letter. I coated the chipboard letters with paper glaze and then covered with black micro beads. I dumped off the excess beads and added another coat of paper glaze, then lightly sprinkled with silver and allowed to dry completely before adding to the hearts.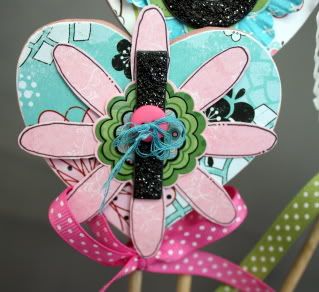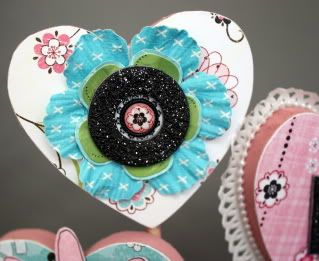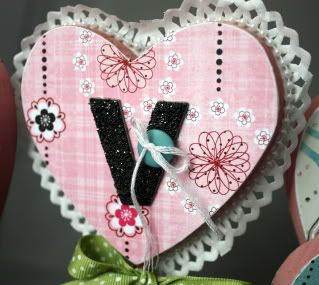 I painted a metal frame pink and then swiped with white.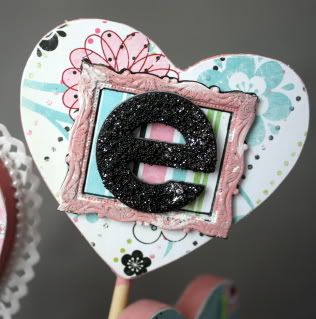 I painted a metal tag and metal bird charm white before adding to the heart.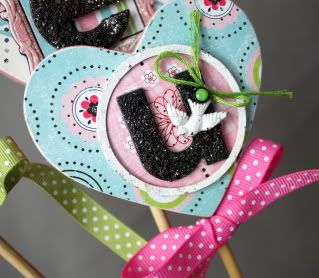 This is the card that I made to go with gift. I swore I had a mother's day stamp, but I couldn't find it so I just wrote the sentiment in white pen and traced with stardust stickles. I used the same circle technique from the previous layout.
A layout about me!
journaling: Who is Tanisha Long? Who am I?
Thoughtful, Dreamer, Serious, Goofy, Playful, Loud, Talkative, Reticent, Moody, Friendly, Sarcastic, Nonchalant, Optimistic, Hopeful, Lover, Artistic, Compassionate, Frank, Disconcerted, Weary, Multi-tasker, Strong Willed
And finally the acrylic mini album! This is a mini album created with mini photos because I wanted the papers to shine. I was serious when I said I loved these papers!! There are 17 photos in this album, but only 3 are "normal" size. I also used a ton of that yummy double sided ribbon! it's s easy to use because you don't have to manipulate the ribbon to get the print facing outward...you just tie it and go!
I used some
Shimmerz Paints
to highlight a chipboard flourish, an acrylic bracket and a paper flower.
I titled it 3 Boys and One Girl because that's what my family is made up of (mom dad and 2 sons)
I painted the edges of the album and the papers black to increase the "pop factor".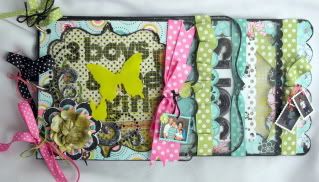 Here's a close-up of how Shimmerz pixie dust paint looks on the chipboard flourish.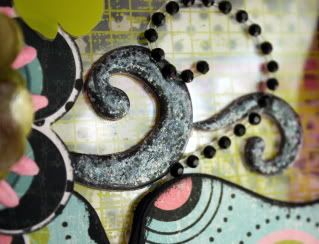 and on the Prima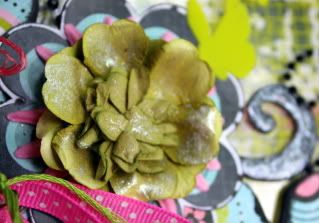 This is a mini pic of my family on the front cover. I used scalloped shaped scissors to create the mat (so glad I never got rid of the few shaped scissors that I had from back when, they sure come in handy from time to time!)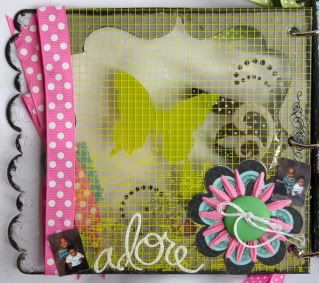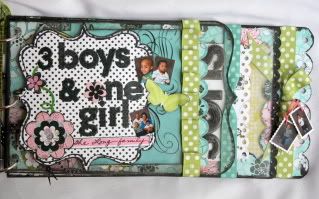 Most of the photos are from our family photo shoot this past March.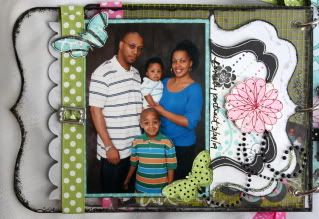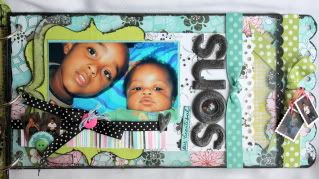 I coated the chipboard alphas with Ranger's crackle accents and used the "O" to frame a photo of the boys.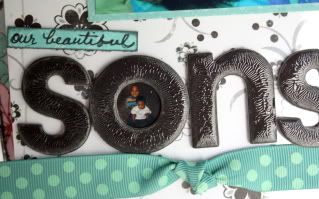 I pleated a strip of striped paper under the main photo and added 2 more mini photos of the boys.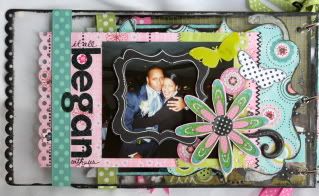 I used 5 mini photos on this page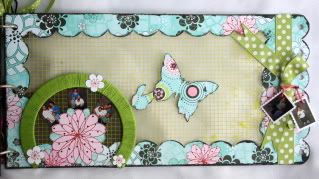 I took a skein of DMC floss and wrapper it around an acrylic circle to form this frame.