Remember those
cute photos
that I took of Donovan showing off his mohawk? Well, I couldn't wait to put them on a layout! No flowers or ribbon here, I went straight boy style; these papers from Prima and 7 Gypsies were just right for the look I wanted to achieve!!! I did add some shimmerz paints, though because you can find a use for
Shimmerz
on ANY project! Just check out how I used gold glimmer blingz here. Do you see it?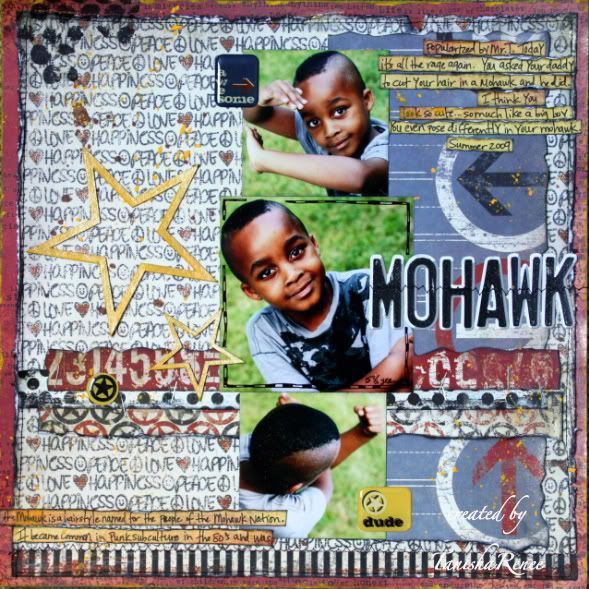 How about a closer look! I painted the stars with yellow acrylic paint and then went over them with gold glimmer blingz. Just enough bling without sacrificing the grungy look!
I painted the edges of the layout and added some paint splatters all throughout to mix in more yellow with the red and black color scheme.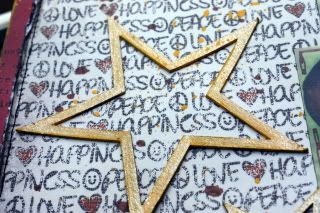 I ran my fingernail around the edges of the journaling strips to rough them up bit.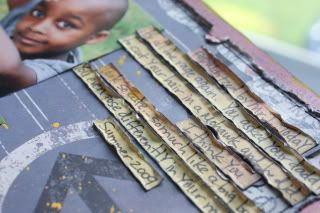 These alpha stickers have been in my stash since I started scrapping 5 years ago. I loved them then and was more than happy to revisit an old fave! Since the stickers have been sitting opened for so long, I didn't know how well the adhesive would hold up, so I added a little machine stitching to make sure they stay in place. I think it adds a nice little touch, too!
Lastly, I used a sharpie to doodle a frame around the main photo to highlight my cutie.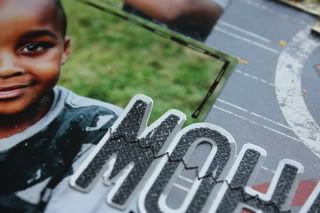 This layout was created using an awesome sketch I found on
Design By Diana
.
Thanks for stopping by!