As promised on the video, here's what the finished project looks like. The shimmery stamped background lends interest and dimension to an otherwise plain piece of cardstock. The papers used are from My Little Shoebox Little Lady Line. As you can see here, Little Lady is perfect for Little Gentlemen, too!
here's a close up of the bubble wrap impression--although shimmerz dries really quickly, you'll want to use a heat gun to dry the spritz after stamping the bubble wrap so you'll keep the nice uniform circles (well unless you're trying to achieve a different effect).
I also added some shimmerz paints to my project. Sunflower shimmerz makes this sun a little brighter!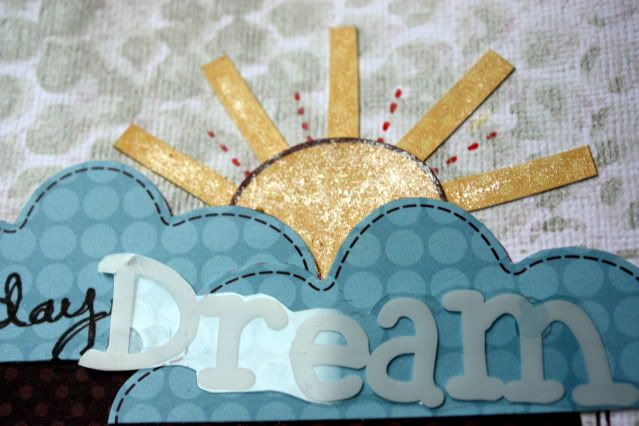 I used mossy stone and sunflower shimmerz on the tree tops for a wonderful iridescent sheen.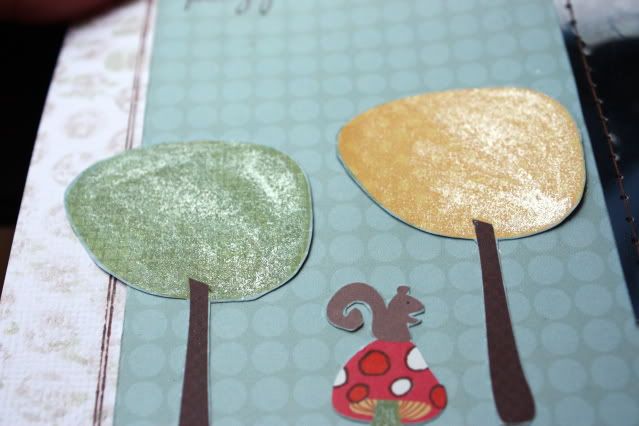 I created a few more projects that combine Shimmerz with My Little Shoebox Little Lady Line. I mixed mossy stone shimmerz with acrylic paint and splattered it on the background here.


journaling: my sister is a mom of twins. When she was pregnant, people would tell her she was going to have double the trouble. She would reply "no, I'll have double the love!" I wonder if she still feels that way now that they are teenagers. LOL journalled 10/27/09
For this next layout, I used Jeni Boivert's tutorial to create the flower here. I spritzed it liberally with Baby's Breath spritz.
journaling: before i had children i wore halter tops and bikinis, mini skirts and short shorts...but not anymore. My body is a lot different. i'll deal with it though; if having my boys in my life means a larger waist line, then it's OK
This paper line is filled with little lady bugs. I created this lady bug by punching circles from 2 papers, cutting one in half and then layering them. I then wrote the sentiment and then cut it out...I thought "good luck" was perfect since that's what lady bugs are supposed to bring.

Thanks so much for taking the time to view the video and comment on my projects! I hope you use these ideas as a springboard for you own! Have a great day!