Hey there...happy Tuesday! I have been busy, busy in my craft room creating projects for different things... you should see the mess! LOL! I've been promoting
Purple Cows' HUGE Design Contest
lately and I haven't posted as many projects but I've got some goodies to share today, though... 2 layouts using papers from one of my favorite companies...
Pink Paislee
!
I love how Pink Paislee papers coordinate allowing me to mix and match newer lines with previously released lines and still maintain a cohesive look!! To create this LO, I used papers from Spring Fling, Tinsel Town, Enchanting and Office Lingo. The alpha stickers are from Fetching and work very well with these papers, too!
I took this photo a couple years ago at the mall just before Christmas...my favorite time to go to the mall and decided now was a perfect time to scrap it, especially with Christmas being right around the corner! Can you believe it?
journaling: Nothing puts me in a better mood during the holiday season than taking in all of the holiday hoopla at the mall. I don't know if it's the gigantic Christmas tree and decorations, the fake snow, watching the kiddies wait patiently in line for Santa, or watching shoppers go to and fro in search of that perfect gift. I love it all and for me, the season isn't complete without a few trips to the mall.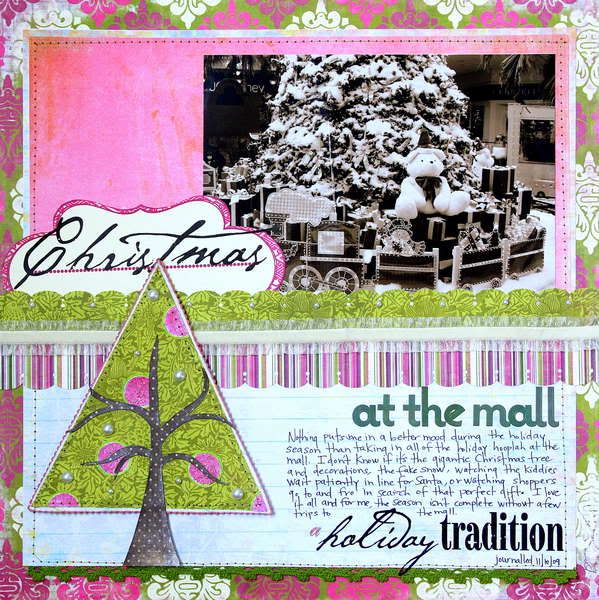 I popped my paper pierced tree up on pop dots and used one of my favorite products on the market,
Shimmerz Paints
, to spruce it up. I painted the centers of the circles with Hottie Pink Blingz and painted the tree trunk with Antique Lace Shimmerz (new Fall release).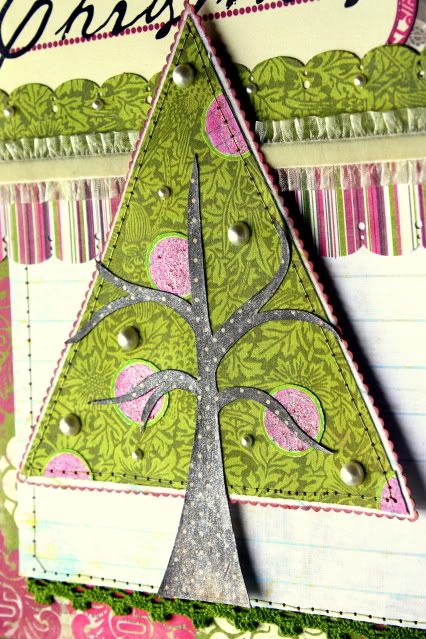 I couldn't wait to scrap the photos on this next layout; I took them at Donovan's graduation, but needed the right inspiration to really pull it off. I purchased the new Expressions chipboard alphabet from Scrapbook Expo and knew I had to use them...the color was too perfect! I went stash digging and found a great mix of Pink Paislee papers from Sweet Cakes and Fascinating to compliment my photo. I used the swoops to highlight the first part of my title and also to mimic a gust of breath. The dymo labels were used to help add journaling from the story of the 3 Little Pigs. How perfect is that mini Jenni Bowlin bingo card? It was the right color and everything! Love it when that happens!
journaling: Donnie, you are a natural! On the day of your pre-school graduation, you stood up in front of all the parents and performed your lines without fear or hesitation. My favorite part was watching you play the role of the Big Bad Wolf...you really got into the character. Just check out that sneer, you look scarier than the wolf!
-------------------------------------------------------------------------------------------------
I also have another RAK winner to announce!
NITASHA...congratulations, you are the lucky winner of the bottle of Shimmerz Spritz, and the My Little Shoebox chipboard alpha and glazed alpha!!! Thanks so much for becoming a fan/blog follower of Purple Cows and for telling them I sent you!!!
Have a great day everyone!!!