The In Bloom line by My Little Shoebox is one of the prettiest, most feminine papers I've come across lately. When I received my shipment in the mail the first thing I thought was, man this pretty and how in the world am I going to incorporate these papers into pages about boys? So I challenged myself, which you will see later in this post.
First up is a "Sorry" Card. I used an embossing folder and my Epic Six to deboss (I just flipped the embossing folder) the bottom of the card. I layered the flowers, the flower tops were cut into strips first and then painted with pixie dust blingz. I wrote the sentiment, then cut it out and painted it with pixie dust blingz as well.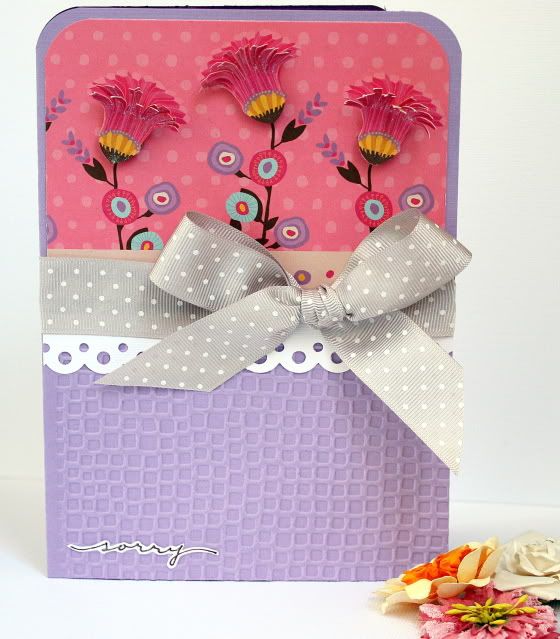 here's a close-up of the flowers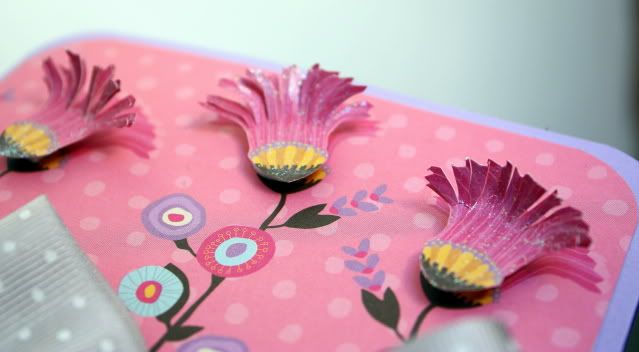 This next layout is one of my latest favorites!! This is a photo of my mom and I taken last month in Bermuda. I went super duper girly on this one and I love it! I think my mom (who has since been converted into a scrapper) will, too!
I used
this layout
that I created over 2 years ago as inspiration for this one.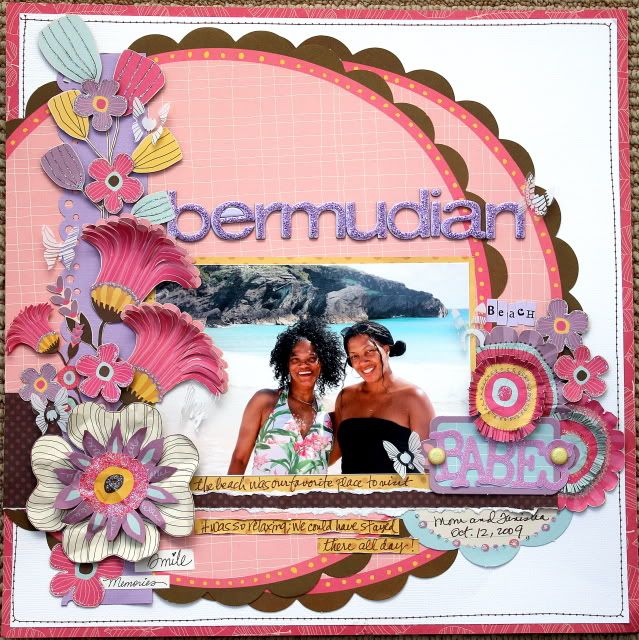 I got a little creative with the transparent overlay. Instead of cutting out the images, I used my butterfly punch and the results are beautiful little one-of-a-kind embellishments for my page.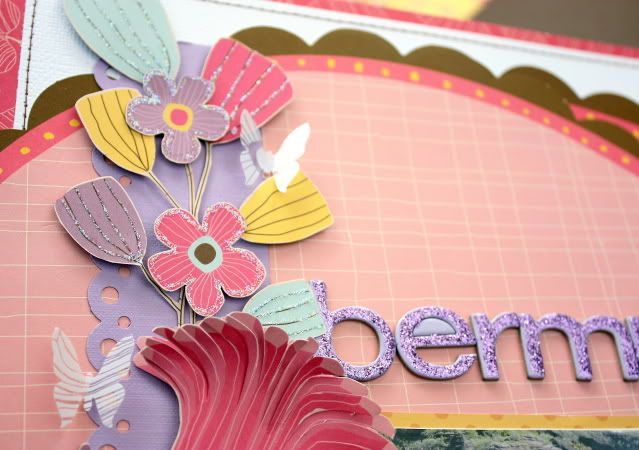 There was a lot of hand cutting going on for this page! My cutter bees got quite the work-out! So did my stickles! I crumpled most of the flowers and layered them using pop dots for added dimension. I also cut fringes in some of the flowers for that extra "touch me" appeal.
I really love these glazed alpha (see the word "babes"). They are an ingenious little invention that add the look of glitter without all of the mess.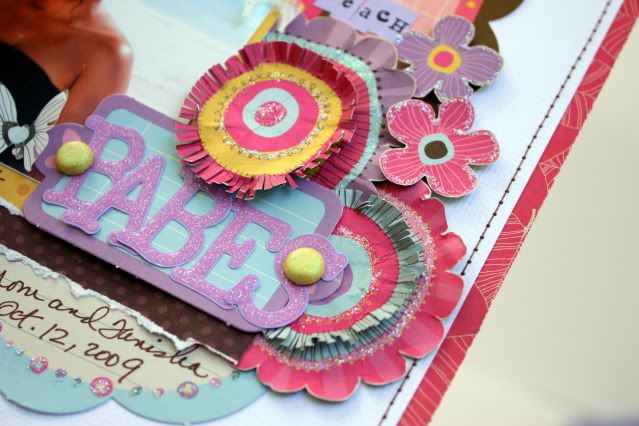 The photo on this next layout is so close to my heart. Troy took this picture of Donovan and I on my very first Mother's Day. Donovan was about 3 1/2 months old in this picture. I remembered feeling so happy that day. I couldn't wait to become a mom!
I must have been in an embossing state of mind because I used it here, too. Hand cutting, stitching, scalloped borders give this layout all right finishing touches. One of the elements about My Little Shoebox papers that I love most, is the fact the there are always images large enough to cut out and make into personalized embellishments.
Here you can get a closer look at the butterflies that I punched from the overlay, the scalloped edges and the hand cut flowers.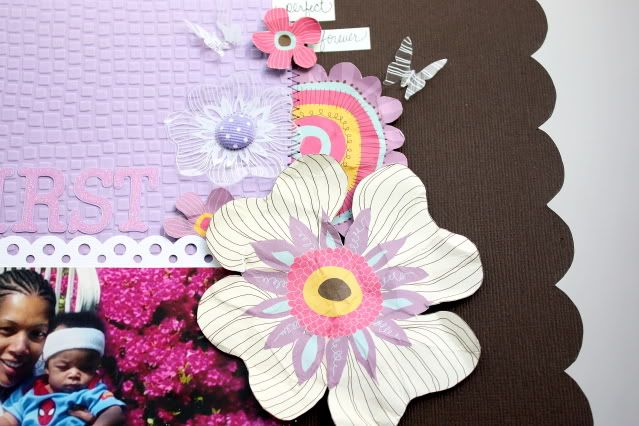 To create this next layout, I took on a dual challenge. Suzy challenged the DT to scraplift one of DT member's, Michelle L.'s layouts seen
here
. Instead of actually scraplifting the layout, I took some elements from Michelle's layout titled "Oh So Happy" and used it to create my own version. I loved her color blocking and stitching and how the white background made the elements pop--these are the elements that I incorporated here.
I also challenged myself to create a masculine layout using this uber feminine line. I didn't want to use pink or lavender, nor flowers of any type. Sounds hard right? It was my way of showing MLS consumers how versatile these papers can be, even if you don't think so at first sight.
So how did I do?
I took the blue and yellow patterned papers and cut strips from them. Since I was only working with 2 of the 6 different papers in this line, I had to really put on my thinking cap. I decided to add lots of texture! I cut shapes from the patterned papers and sanded around the edged before adhering them to my strips.
I did something similar to the brown cardstock. Instead of sanding the circles, I ran them through my embossing machine and then adhered them to the cardstock. I love the added texture!
I cut the artisan die cuts in half and layered them across the top. I used a border punch on the small blue strip to make it look like a blue/yellow piece of patterned paper and then stitched it across the edge.
I used twine to create a visual triangle and add texture. The chipboard letters were originally lavender, but that didn't present a problem. I just peeled off the top layer (one of the great things about chipboard) to reveal the raw texture and outlined them.
Looking at the previous 3 projects, one would never guess that this project was created from the same line!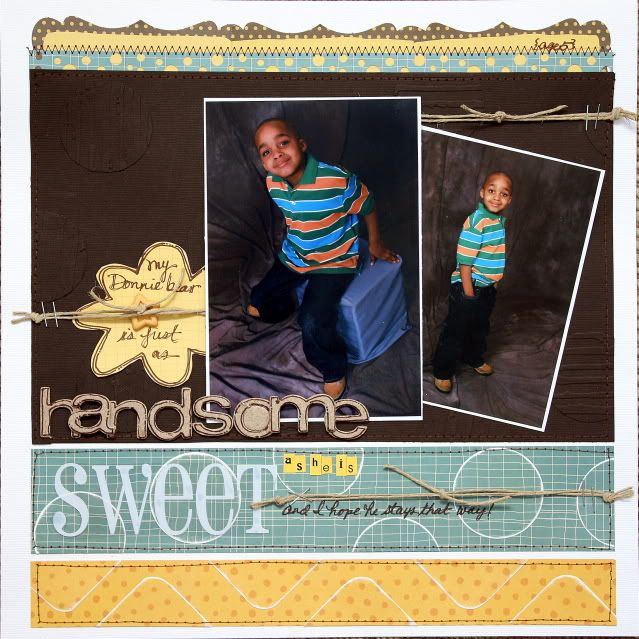 here's a close-up of the textured tone on tone circles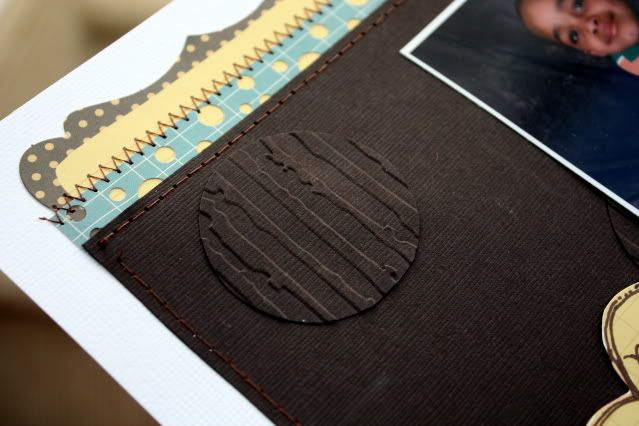 ...and a close-up of the chipboard, originally lavender as well as the sanded tone on tone shapes.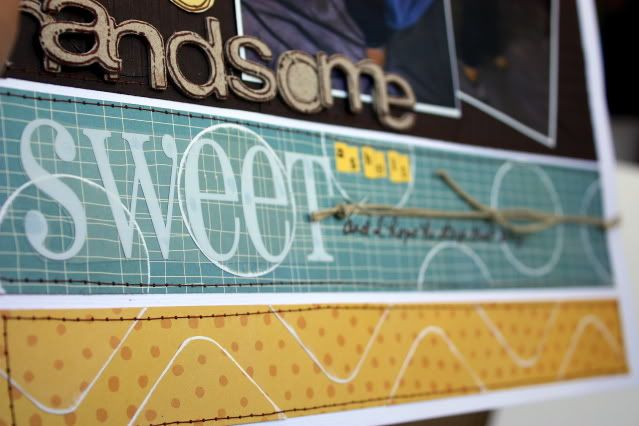 I hope you've enjoyed this LONG post and possibly learned something new!
Take care!
Don't forget to check out Purple Cows contest. There are still about 5 weeks left to enter! For more information check out
this post
! There are $9000 in prizes up for grabs!!!