Unfortunately, I found out last night that I didn't make Spellbinders final Design Team! Awwww! But I did create an awesome LO as a result of competing in the top 24! I was given the choice to make a card or a LO and then sent 2 sets of die cut templates (butterflies and a scalloped heart). I don't own a die cutting machine (well except my cricut) so I ran to Scrapper's Cove on my lunch hour and cranked out a bunch of die cuts to be used on my LO. I had no idea what the LO was going to look like, only that I wanted a sort of vintage feel. I grabbed a sheet of Graphic 45 pp and white bazzill (I figured I could always change the color to match my LO) and went to town. I took my die cuts home and this is what resulted!
I have wanted to try this photo technique for a long time, it has literally been on my mental to-do list since September. I dreamed it up back when I was participating in Bad Girls Top Designer contest. (yes, I dream of scrapbooking...that's where some of my best work starts)
Oh and FYI, my head isn't really lopped off like that in real life! LOL! I took this picture after my baby shower last March, so forgive the scalping!
I titled this LO Natural Woman for 2 reasons. I don't think I've ever felt as feminine and womanly as I did when I was pregnant with my sons. Any of the flaws that I saw in myself no longer mattered to me. I felt almost invincible, if that makes any sense to you. Also because I gave birth naturally, without the use of drugs. I don't know what possessed me to do it, but for some reason, I needed to at least try it! Yeah crazy... I know! LOL!
Now for the close-ups! Prima and Graphic 45 came together wonderfully here! To Top it off, I found a beautiful piece of corrugated cardboard, which I inked, to serve as the background. As you can see here, I cut the scalloped hearts from patterned paper and corrugated cardboard. I layered the butterfly for dimension, but not before I spritzed the bottom one with sandy beach glimmer mist and the top one with dreamsicle glimmer mist. I also embossed the top butterfly and stencilled with chalk and decorated with Kaiser pearls and Prima gem flourishes to really give it character.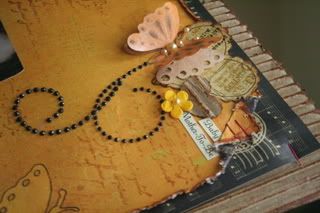 I also stamped some of the butterflies with my french script stamp after spritzing with glimmer mist. I think I've said it before, but this is my all time favorite stamp! I've used it on a lot of projects!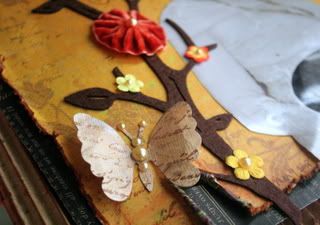 Here I die cut 2 tiny scalloped hearts from cardboard using the template that they sent and then ink them and layered them to form another type of butterfly. I also used the die cut butterfliy as a mask when spritzing glimmer mist on the background paper.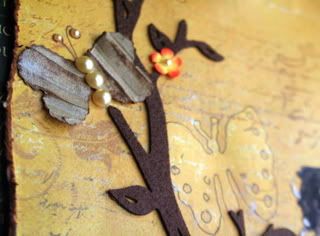 I cut a piece of packaging from my Prima lollipop flowers, sprayed it with gold glimmer mist and then used it to form my title block. Then decorated it with Prima lace trim, bazzill pom pom trim and yet another butterfly.
This photo technique was very easy to create, I wanted it to look very natural as if you were seeing the baby through my belly. First I printed the photo of me onto a self adhesive transparency (I think they're made by Grafix), then took a piece of tracing paper and placed it on top of the photo and drew an oval shape just inside the belly area. I then cut out the oval and used that as a template for my ultrasound picture. I cut the oval out of the ultrasound, peeled the backing from the photo of me and put in on top of the trimmed ultrasound pic where I wanted it to go. I then placed the combined picture on a piece of white cardstock, cut the picture out and adhered it to my layout.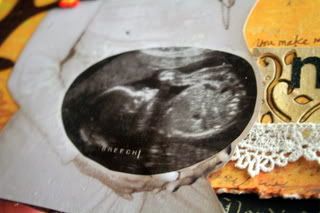 Although I didn't make the team, I was asked to be a guest blogger so we'll see how that goes!