I'm soooooo tired!! I was up until 2 am prepping kits for the classes that I'm teaching at Croptopia Getaway next month and I've been at it ALL day long and I still have a lot to do! My Cricut is getting a serious workout, so are my punches! I'm tired of counting and recounting all of the elements, but I am excited and eagerly anticipating the classes! I hope to have a great turnout! The workshop schedule is supposed to go up on
Croptopia's website
later this week.
I created a cute 2 page LO featuring MME's new Penny Lane Line. It's perfect for Spring and Summer photos. I also created an adorable Bag of Love mini album featuring Basic Grey's Bittersweet Line. This mini is jam packed with coordinating embellishments and has plenty of space for for photos and journaling!
I've been scrapping quite a bit lately. Here's my most recent LO created about Donovan's 5th birthday. journaling: these photos were taken btw Jan 24th & Jan 29th to record YOU 5 days before your 5th birthday. I can't believe how time has flown. Next year you'll be 6 then 7, but I want to remember you right now, just like this...my sweet little 5 year old! 2009
I took the photos starting 5 days before his birthday, but I forgot to take one on day 3, which lead to me spelling out some of the numbers.
I've been using a lot of white cardstock lately which ir very much unlike me, but I love the clean look. This is a close-up of the banner I made. I stitched the triangles to solid paper and then used shaped scissors (remember those?) for a nice scalloped trim. I then adhered to my LO abd stitched a piece of ribbon across the top.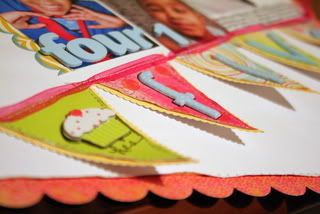 I've been in a 2 page state of mind lately, too! I think I've created 3 or 4 this month! I used a pagemap for this one. The original sketch is a double 8.5x11, but I adapted it and made it 12x12. This LO is about spending time with my girls!
journaling: We are spread out over 3 different states: NJ, MD, & VA, but whenever either of us needs a break from real life, those state lines are quickly erased and we find ourselves gathered together for our infamous girl's getaway weekends. It only takes 1 email to set off a chain of events: planning, anticipaing, and executing our weekend. Sometimes our weekends are so packed w/ things to do that we need a vacation from our vacation. But no one complains because we usually have so much fun hitting the spa, the club, the mall, catching a comedy show, taking a city tour and just plain celebrating years of friendship. I look forward to many more years with my girls!

DreamGirls new challenge is going up tomorrow! Here's a sneak peek of what's in store.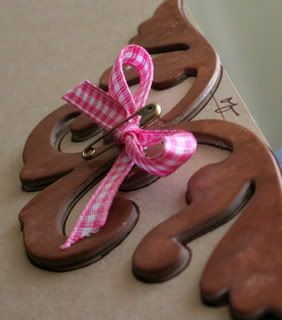 So how was your Valentine's Day? Better than mine, I hope! Mine was just an ordinary day as usual, no special trinkets or anything for me, except the card Donovan made for me in school. You'd think after nearly 15 years DH would get it...but nope! So although, I say whatever to not getting any romantic expressions of love, I'm moping around with a sad look on my face.
But anyway...check back for some new projects featuring My Little Shoebox's new Turtles and Trees line! It came in the mail Thursday and I can't wait to play with it!
Well, thanks for stopping by! I now have to entertain my antsy 5 year old who seems to be bouncing off the walls because he has not left the house today. Sometimes I forget that little kids are sometimes like little puppies, they need fresh air or they go crazy! LOL!
Later!