DreamGirls challenge #22 went up this morning and boy did we have a ball with this one! The challenge was to use 80% American Crafts products, at least one flourish and at least one heart on our LOs. Check out what the rest of the
DreamGirls
came with!
I created yet another LO about my babies, because I just love them so much and I adore these photos I took of them on Christmas (and just before). I changed the photos to b/w so the colors didn't clash with the papers (which I've been dying to use).
Who says you can't use pink on boy LOs? Certainly not me! I love crossing the "color barrier" and it was easy to do here because the page is about love, so the pink translated well.
journaling: Donovan & Xander, you two are the greatest gifts that God has blessed me with. I never knew I was capable of loving anyone as much as I love you!
close up of the flower: I cut some of the petals with my craft knife and curled them up to add dimension to the flower and then added some bling to dress up the centers. I cut the bird from a piece of AC patterned paper- originally, it was pink and facing the opposite direction, I just flipped it over to the orange side, covered it with stickles and added a gem to form the eye.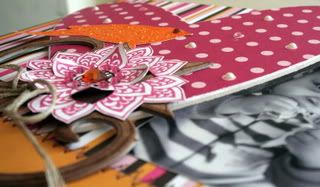 I also added Kaiser's pearls and pink rhinestones to some of the polka dots on the patterned paper covering the chipboard heart. I love adding as much detail as I can to all of the elements on my LOs. I think the stitching and the floss tied in a bow gives this a nice "homey" feel.