You don't know how excited I am that we're finally finishing our basement!!!! Oh my gosh, we need the room so bad, my living room looks like a disaster area between my scrap stuff and toys plus that fact that it's small to begin with! Renovating the basement means that I am finally going to have my own scrap space....oh this makes my year! I can't wait until everything is complete. We're not doing anything fancy because this is costing us an arm and a leg, but I don't care, I just want it done. We'll finally be able to move our office out of the 3rd bedroom to the basement and we'll move the baby out of our room into his own room! I'm so excited...YAY!!!
This is what my basement looked like up to this past Wednesday, the day Fred started on it. The only difference is all of the stuff piled up in the corners, along with about 10 industrial sized garbage bags of stuff was piled in the middle of the floor. I went through the basement Tuesday night. Troy took all of the bulk trash to the garbage and I threw everything that I haven't seen in the past year in the garbage, hence the reason I had 10 extra big garbage bags. It felt so good to get rid of all of that clutter!!!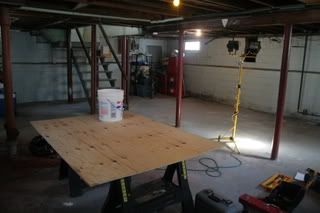 The ceiling will be a drop ceiling and with recessed lighting by the time everything is said and done.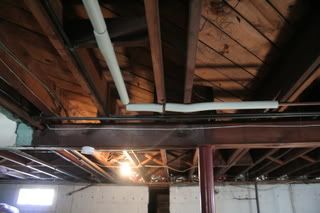 You can get a glimpse of what will be the laundry room on the left and another storage area on the right.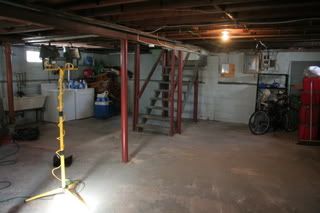 This is what the staircase looked like- he started working on this first. They're going to be encased and the backs closed and then carpeted.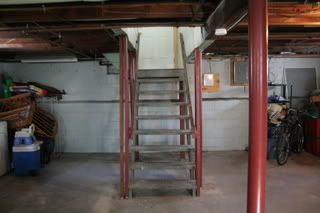 Oh I can't wait! Then I can spread my scrap stuff out and I won't have to scrap on top of a 12x12 album on my lap! I'm going to have a play area down here for the boys so they can play while I scrap! Notice where my focus is...scrapping?!