The latest challenge from Dreamgirls is up and this time, it's an ad challenge! Here's the ad...we had to use a safety pin on the LO and something from outside of the scrap aisle. Click
here
to see what the rest of the Divas came up with!
Here's my take on the ad. I used the colors (brown, black, and trace of red), the distressed look, and the layering as inspiration.
I took this photo of Donovan last Summer and had no idea how to scrap it. I like the outcome, plus I finally had the opportunity to test out some Graphic 45 papers!! They work well with the Jenni Bowlin papers here!
Now for the deets! I took apart the lollipop flower and replaced one of the circles with a piece of red patterned paper. I then cut a piece of gauze (my non scrappy item) into a circle, spritzed it with glimmer mist and added it to the back of the flower. I coupled the safety pin with a piece of savvynsassy lace to finish off the center.
I added Kaiser pearls (can't get enough of these) to buttons and used them as centers for the smaller paper flowers.
I spritzed the JB die cut paper with sandy beach glimmer mist and outlined with a red pen, then added simple journaling and an acetate "D".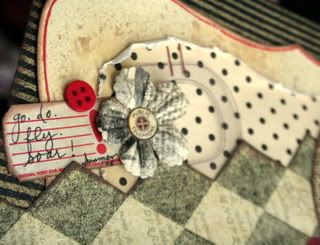 -------------------------------------------------------------------
There's still plenty of time to sign up for Croptopia workshops in Parsippany, NJ March 27-29th. Just click
here
for all of the info!