Well maybe I'm stretching that a bit...OK, a whole lot; but I must say that after my trip there 2 weeks ago for the African American Mom Blogger's Mixer, I realized that there was so much about Disney that I did not know that I feel like I could go on and on about all the fantastic things that Disney offers.
In 2003, I had visited Disney with my sister and her twins, a trip we like to call "Disney on a budget". We stayed in one of Disney's Value priced resorts (
Disney All-Star Movies
), but let me tell you there was nothing budget about it but the price. We received impeccable service and had a lot of the amenities (i.e. transportation, luggage pick-up, pool, etc.) as the other on-site resorts. There were only 4 of us so we stayed in the same room, however the resort also offers suites and connecting rooms. There are
world premiere food court
s
on site and lots of fun pool side activities for the kiddos. We had a blast!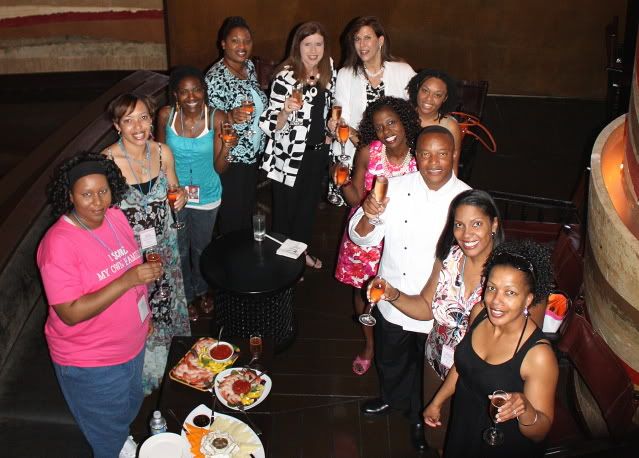 Fast forward to May 2009--I found out just how fine lodging and dining could get at Disney. Here's our group at Jambo House at
Disney's Animal Kingdom Lodge
-- an "African lodge-style resort boasting spacious accommodations that include kitchenettes/kitchens and multi-bedroom units. Featuring over 30 species of wildlife that roam free amidst 4 lush, tropical savannas, Disney's Animal Kingdom Villas – Jambo House offers you the unique opportunity to observe exotic animals in their natural habitat from special viewing areas throughout the Resort—and from the balconies of select Guest rooms." I loved just how authentic the decor was, I could have stood and stared for hours at all of the beautiful museum quality pieces that adorned the lodge.
We also visited the Treehouse Villas located at
Saratoga Springs Resort & Spa
. These villas are what the cast members at Disney call "glamping"- Disney speak for glamorous camping. They are perfect for nature lovers and guests seeking a bit more privacy. "These stand-alone structures—elevated 10 feet off the ground on pedestals and beams—are nestled unobtrusively into natural glens alongside the Sassagoula River. The 60 three-bedroom vacation homes sleep 9 Guests and feature modern luxuries such as cathedral ceilings, granite countertops and flat-panel TVs. Scheduled to open summer 2009".
I found it very difficult to vacate the premises--truly gorgeous. If you happen to visit and see claw marks in the wood, that's just my fingernail marks from where I was dragged away! LOL!
We stayed at the magnificent
Boardwalk Resort
where we were greeted with "Welcome Home".
The meals we ate during our visit were absolutely divine! As I stated before, the last time I visited Disney, we were on a budget so pizza, chicken fingers and fries were our meals of choice, but Disney offers something for EVERY budget.
This time around, I dined at
Jiko
. This restaurant is located at Disney's Animal Kingdom Lodge and fuses the bold flavors of traditional African, Indian and Mediterranean cuisine. It also boasts a wine list that features one of the largest selections of South African vintages in North America!
I ate lamb chops and escargot at
Bistro de Paris
, a french restaurant at Epcot center and dined on fantastic contemporary American cuisine at
The Hollywood Brown Derby
located in Disney's Hollywood Studios Theme Park. I think I speak for the whole group when I say, we were thoroughly impressed!
We were also able to tour the
parks
...fun stuff!! When some folks think of Disney, Magic Kingdom comes to mind, but Disney has 4 Theme Parks, 2 water parks, and countless other attractions for the whole family....there's just so much to see when you visit. Anyone staying on the Disney properties are also treated to Magic Hours, which are extended park hours (1 hour prior to park opening and 3 hours after close). Magic Hours are only available for 1 park per day, if you're plan on visiting, just check the schedule.
One of the amenities offered in the parks, which just thrilled me to pieces, was the Baby Care Center. The one we toured was located at Magic Kingdom and sort of serves as a refuge from the "busy-ness" of the park. If you little one has a meltdown and could use a quiet place to chill out, if you need to change diapers, nurse your baby, feed your toddler, warm a bottle then head on over to the baby center. This is also the place to purchase any of the baby needs that you may have forgotten: diapers, baby food, wipes, tylenol, etc...

The American Idol
experience is one of the newer attractions at Disney's Hollywood Studios Park; it provides select guests with an opportunity to audition and sing onstage! The excitement unfolds before your eyes. This exhilarating attraction features all the glitz and glamour of the hit television series' stunning set, and gives you an opportunity to experience the thrill as if really at the show. Just like on American Idol, the audience decides the destiny of the singers onstage by voting as a member of the attraction audience on your interactive keypad at your seat. And if your audience votes you the best singer of the day at The American Idol Experience finale show, you will receive a Dream Ticket. If you are eligible to use the Dream Ticket, you will have an opportunity to make a reservation to sing in front of an American Idol representative at an actual regional audition of the American Idol TV show, where it's your moment to shine!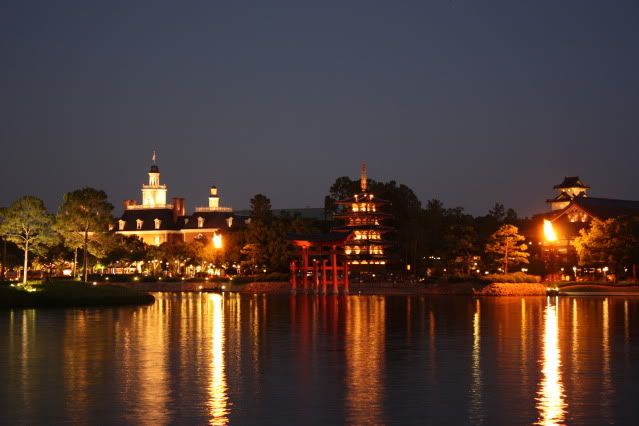 Epcot Center at night is quite a sight to behold--all of the countries lit up (except Morocco) and reflecting off the lagoon was truly beautiful and serene!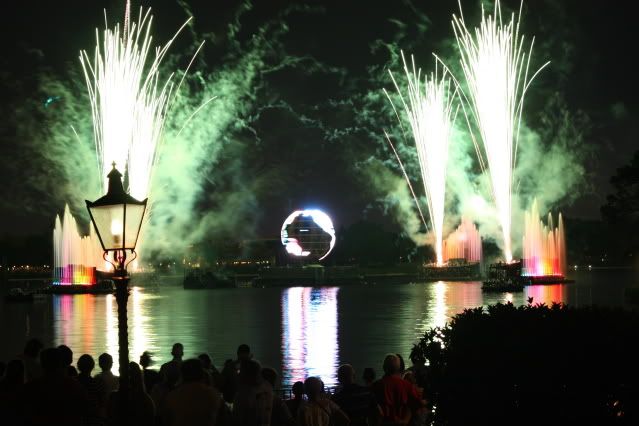 Then the show begins!
IllumiNations: Reflections of Earth
, a mesmerizing fireworks, laser and water show featuring a rousing soundtrack, plays nightly for Guests of all ages in the World Showcase area in
Epcot theme park
.
The last stop of our trip bought to the Animal Kingdom for a viewing of Festival of the Lion King. Festival of the Lion King brings the familiar characters of the Disney animated classic film The Lion King from the movie screen to an action-packed stage at
Disney's Animal Kingdom theme park
. This scheduled 30-minute big-as-Broadway live show combines the pageantry of a parade with a tribal celebration.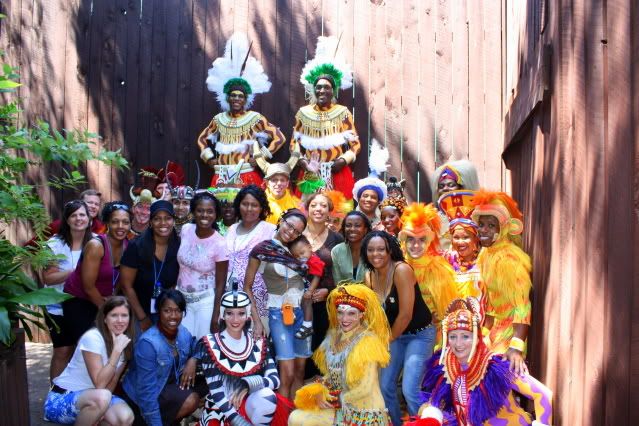 After the show, we were treated to a photo shoot with a few members of the cast!
Did you know that Disney has a
mom's panel
? This group is comprised of moms and 1 dad who know everything there is to know about planning a trip to Disney World and are just waiting to share their wealth of information with you! While in Disney, our group hung out with 2 of the panelists: Doug (the only dad panelist and author of
The Complete Idiots Guide To Walt Disney World
) and Whitney who loaded me up with so much more info about WDW on our ride to the airport!
If you are considering a trip to Disney, plan it in advance in order to get the best pricing package for your budget. You and your family are sure to have FUN...Disney is after all, the happiest place on earth!
Re-Introducing the Disney Mocha Moms:
Special thanks again to

Maria Bailey

, Laura Spencer, Leanne Jakubowski, Cullen Garlock, and Valika Shivcharran for all of your hard work in making this an incredibly fabulous weekend!!