...glimmer mist, pearls, and bells, too!
Oh....looks like my time at
My Acrylic Album
is coming to an end (weep, weep)! December is the last month of my DT term and I've been hard at work on my last assignments. I still have another one to share, but I'm posting these 2 now. MAA has a bunch of new acrylic albums debuting Dec. 1st, so keep your eyes peeled!
OK, on to the goodies! This little cupcake looks almost good enough to eat! I cut cotton balls in half and adhered them to the cover to get the "frosted" look, then sprinkled with Pink Paislee's coconut pixee stix, red and silver glitter. I then lightly sprayed with adhesive so the cotton balls would hold form. I need this album to really stand up because it going on the road with My Acrylic Album, permanently. Yep, it's going to be on display at all of the conventions and showcases that MAA travels to, so I have to kiss this little cutie goodbye. MM donated product for this album; I received Rouge paperie and let me tell you, it couldn't be more perfect!
The photos are of the 2 little girls in my life, my goddaughter and my niece...love those girls! I used lots of bling to highlight my little sweetie pies!
I gave the cupcakes a "cherry on the top" look by layering flowers and buttons and adhering them to the tops...I also added stickles to all of the buttons.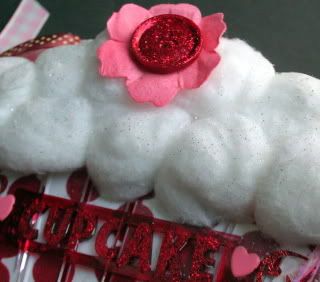 This is one chunky album! LOL!
I sprayed the entire front cover with adhesive and coated it with gold glitter. Can, I just tell you that I made a huge mess with this. Anyone who comes to my house for the next year will probably leave with specks of glitter on their body. I spilled the glitter all over my leather couch...what a mess. it's all over the place!