YAY!! Fred did an amazing job on our basement In just 1 month, he single handedly transformed our dingy, cold basement into a beautiful, warm, addition to our home. I love how it turned out!

I took way more photos, but here are some to give you an idea of the entire transformation. This is what we started with.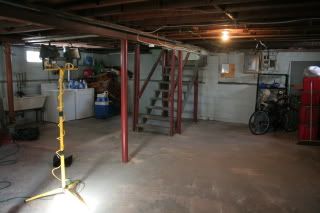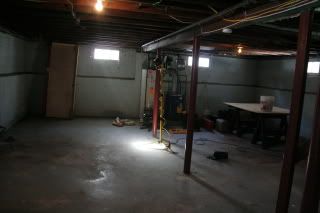 He framed the entire basement and attached the sheet rock to that.
Here you can see the formation of the laundry and storage rooms on either side of the staircase and you can see how he encased the stairway.
The framework of my scrap area
The sheet rock goes up. Lots of sanding and dust all over the place.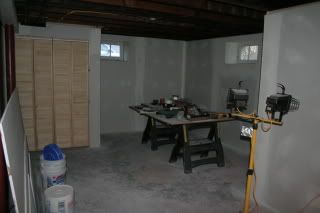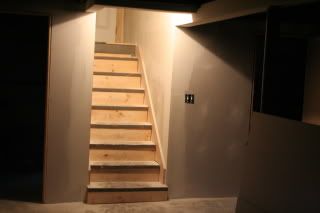 The ceiling and recessed lighting. How do you like my paint job? Man, it took me forever to paint. I still need to go over a few spots around the chair rail, but truth be told, it may stay just the way it is! The color is pumpkin butter...doesn't it sound delicious? I thought it was very warm for a basement.
The laundry room and storage room are now separated from the main living space (the doors on the side of the stair case). They actually connect under the stairs, which is kind of cool. Those areas were left unfinished, but I plan to one day go in and paint them at some point.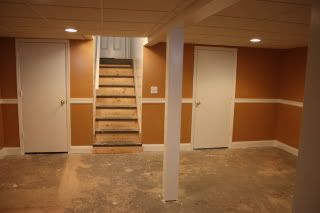 Lowe's installed the carpet. I was so thrilled to find this berber, it's a light sandy color with the color of the walls woven into it. It really makes everything pop and the padding makes the floors so comfortable. Troy painted the hallway. We went with white and I like the transition it creates.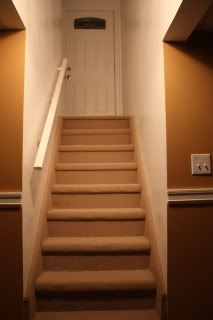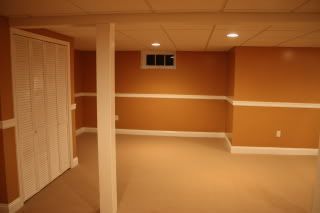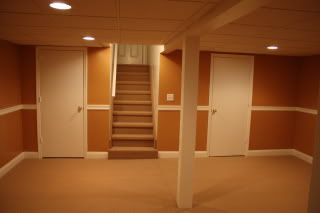 I finally moved all of my scrap stuff from the living room down to my little solace. I found those tall black shelves for $49 each and the paper rack came in handy. I bought it for $40 from a LSS that went out of business. I didn't know I had so much cardstock! I still need more shelving so I can replace the plastic bins...I'm trying to keep everything stored as neatly as possible since my area is an open space. So this is what it is so far. I'll definitely add my own little touches as time goes on and will post updates when I do. I saw this big comfy chair that I want to put in the left corner where the printer is. I want to get a really tall desk, possibly a kitchen island with lots of storage space...I saw one at IKEA that I fell in love with! That will go right in the middle of the floor facing outward so I can keep and eye on the boys while we're hanging out here. I want to get one of those embellishment cabinets by Making Memories. Yeah, it's going to take a minute to get it just like I want it, but for now, it's functional and I can scrap!