I've been asked to be a guest designer at
The Design Experiment
. Let me tell you, this challenge prompt couldn't have come at a more perfect time!
challenge:
Music plays a big part in everyone's day whether it is intended to or not. Is there a song that's stuck in your head at the moment? Why? What significance does it have in your life?
Well ya girl is having some issues right now and this is what I was feeling when I created this LO. Nothing life threatening, just some "man/woman" issues that I'm dealing with!
journaling: take a good look at my face you'll see my smile looks out of place if you look closer it's easy to trace the tracks of my tears
just going through some things
this song has become the soundtrack of my days
There are a lot of symbolic elements on this LO. I crumpled the circle because I wanted it to simulate a "broken record" (going through the same "ish" over and over)
I have the slightest idea were this little theatre face brad is from, but I thought it was appropriate for this topic. A couple of rain drops cut from American Crafts patterned paper and coated with stickles finishes off the look.
The little flap kind of reveals the sadness within. There were supposed to be 2 flaps, one on each side, but on tore completely off during distressing. I just threw it aside and kept it moving. I like the look of the one flap better.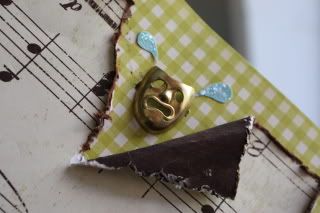 I wasn't really crying when I snapped this photo, I just used paper glaze to trace the track a tear would make had it actually fallen from my eye. I then used stardust stickles to add a little shine to it.
These puffy letters are so shiny, especially when light hits them. I used a white pen to trace the areas that the light hit to give my letters a little more dimension and add some oomph to them!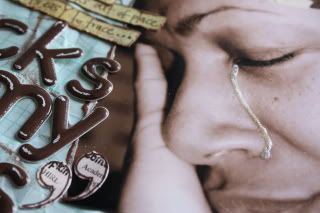 The butterflies are synonymous with change or better times to come. I absolutely LOVE these flocked butterflies that I cut from Anna Griffin paper!!! I have used them on several projects...they are just so fun to touch.
I also tore the sides of the photo and inked them brown...just releasing a bit of anger I guess you could say! LOL!
Thanks for allowing me to share an intimate moment with you!