This month the MLS design team is on assignment. Our focus is to come up with a different way to use My Little Shoebox overlays and chipboard. Totally fun for me because I love coming up with different way to make products my own.
As you know, MLS overlays are all white which is one of the things I love most about them because I can come up with ways to add a little color!
I started off by cutting the piece I wanted from the overlay sheet (in this case, the rainbow) and attaching it to my layout using Zip dry paper glue. You could use glue dots or spray adhesive as well.
Color your overlay using markers that will write on slick surfaces. Here I used Sakura Permapaque markers and a red zig pen (had to let this one dry first).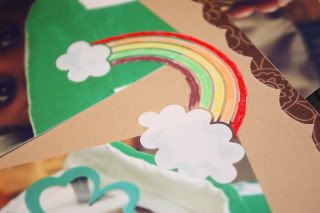 The go over the colored sections with glitter glue in the same color. Here I used red, yellow, orange and pink stickles and green glitter glue from Hampton Arts. I then added a little sparkle to the clouds by outlining them with stardust stickles.
Allow to dry completely and voila! there you have it, a personalized embellishment!
I hope you have fun creating with MLS products and don't forget, there's still time to submit for the DT call!!!
TFL!!