Today is August 3, 2009, which means I was born 35 years ago!!! Can you believe it? I can't, although I feel it most days! This year my birthday falls on a Monday (blech), only the most humdrum day of the week. Personally, I don't like humdrum, so I'm livening things up a bit by giving YOU some goodies! It's my party, but I want us all to celebrate!!! Boy do I have some goodies in store...
One person will win this pile of Maya Road goodies: chipboard album and charms, sheer and velvet ribbon, sheer journaling spots plus a ribbon ring good for storing your ton-o-ribbon!
Another lucky reader will win this oh-so-cute slice apron!! It's not one of those flimsy ones either; it covers nicely and has 3 pockets in the front for all of your scrapbooking/cooking needs!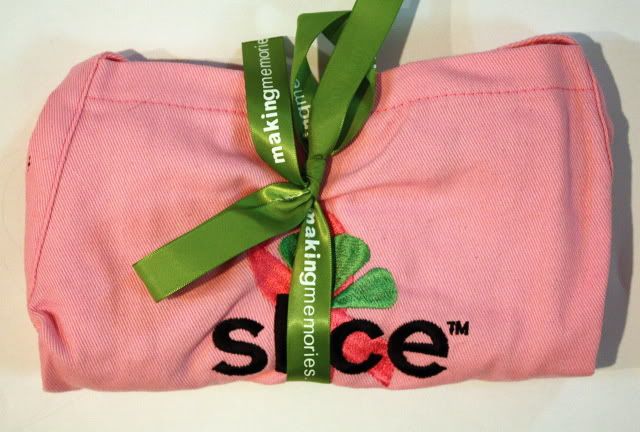 I have one for myself and love it! How cute is that embroidered Breast Cancer Awareness ribbon?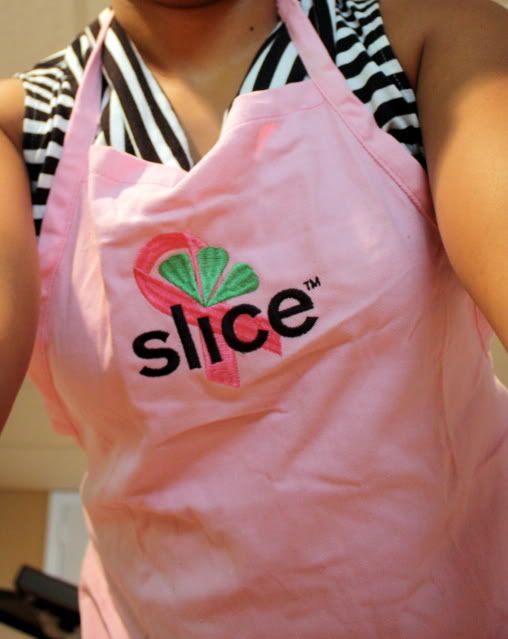 A third person will receive this totally cute canvas bag (and a few scrap goodies) from CHA; it's perfect for all of your shopping needs. I've incorporated some "green" items into my household and canvas bags have become my fave!
And now for the mother load!!!!!! Anyone who is currently a follower of this blog and anyone who becomes a follower before the end of this giveaway will be entered into a random drawing to win My Little Shoebox's new WHOO LOVES YOU? line!!!!! Everything you see here could be yours (6 sheets of double sided paper, 1 scalloped circle paper, 1 package of transparency overlays, the sprinkle glazed alpha, chipboard alpha, the diecuts, and the oh-so-popular mini alpha (we can't keep these bad boys in stock!!
All winners will be randomly drawn
.
Anyone
who posts a comment here by the end of the giveaway will be eligible for one of the first three (3) prizes.
Anyone who is on my blog followers list before the end of the giveaway
,
Thursday August 6th 11:59 pm EDT
, will be eligible to win the full line from My Little Shoebox!!!
Of course, you have BONUS opportunities to win!!!
Post this giveaway on your blog and leave a separate comment here with a link to your blog post and you will get an additional entry!
Tweet this giveaway on twitter and link it here in a separate post for yet another opportunity to win!
Good luck and thanks for celebrating with me!!!!!!!!!!!!