DreamGirls challenge #34 is up! I have to say, I think this is one of my all time favorite challenges! I've created a few monochromatic layouts, but never and ALL WHITE one!
Here's the challenge
:
Prompt: Create a monochromatic challenge using all white or cream
Technique: Stitching
Product: Lace
YOU ABSOLUTELY MUST CLICK
HERE
TO SEE WHAT THE OTHER DIVAS CAME UP WITH!
Not only was this my first all white layout, but only one of a few where I didn't use any patterned paper (GASP!) I've found that the secret to creating with all white is texture, texture, texture!!!
I started out by spraying an entire piece of texture American Crafts cardstock with
Shimmerz
Baby's Breath spritz and allowing to dry completely. I then took a 10x12 piece of glittery lace cardstock from Little Yellow Bicycle and adhered it to the cardstock with spray adhesive. I covered the seam with a piece of
savvynsassy
lace and then topped the lace with strips of tiny pearls. Next, I added pearls and clear rhinestones to the centers of the lace cardstock snowflakes to further add dimension to the layout.
I then added the title using a Heidi Swapp gems word and foam alphabet thickers from American Crafts. Since the rest of the layout is BLINGED OUT, I added stardust stickles to the thickers and then hand stitched a tiny halo above the "a" in "angel".
The final pièce de résistance is the adorable photo of my baby boy, Xander. I printed the photo on a transparency--no special technique behind this, I just ran out of photo paper (LOL). To continue with the snowflake theme, I cut the picture into a snowflake, adhered it to a piece of white cardstock, then trimmed it so there was a 1/8" border left. I mounted the photo using foam pop dots and then outlined with stardust stickles. Lastly, I added large rhinestones to the photo.
This layout is covered with so much bling, it'll make your eyes water--the photo doesn't do it justice.
Here, you can get a better idea of how much texture I created
Close up of the photo-- I sprayed the back of the transparency with spray adhesive and it created a "grainy" look to the photo...love that!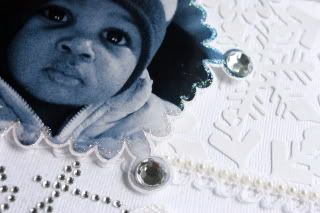 Here's a sneak peek of a layout that I'm teaching next month. I took a little hiatus and am now getting back in the classroom!
Date: Sept 20, 2009
Time: 12:30pm-2:30pm
Place: Scrapper's Cove Milltown, NJ
Title: Life's A Journey 2 page layout featuring Bo Bunny's new Flutter Butter line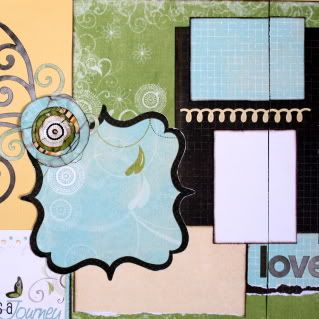 thanks for taking a peek!!