My Little Shoebox's new Imagine A Forest line is simply adorable! The colorful trees and cute squirrels with polka dot and striped tails set the tone for your whimsical projects.
I took a look at those apples and immediately knew I had to create an "apple of my eye" layout...I just had to do it! LOL!
These cute chipboard apples are from
magistical memories
. I covered them with acrylic paint and then sprayed the red portion with
Shimmerz
Barn Yard Red shimmering spritz. I inked the chipboard heart and then painted it and the stems with Choc-O-Lat shimmerz. I painted the inside of the apple white, it was too bright for the page, so I toned down the color by painting it with gold glimmer blingz.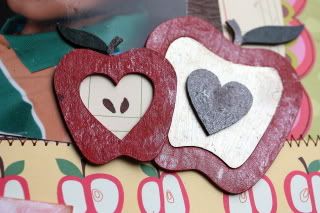 I gave a little oomph to the negative space of my chipboard letters by spritzing barn yard shimmering spritz to the patterned paper beneath it. See how easy it is to apply shimmerz to any part of your projects?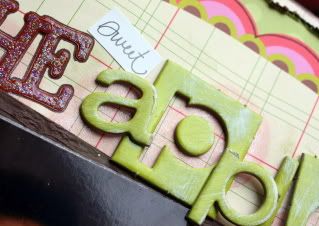 I had fun with this next layout!
journaling (left): uh mom, we're boys sooo why all the pink stuff?
journaling (right): I know the day is coming when you'll look through your scrapbooks & think what the heck was mommy thinking using flowers, ribbon, and the color pink on our stuff? We're boys & that's for girls! I hope you'll come to understand that mommy is an artist & likes to try new products & techniques & that I have design team obligations that require me to use certain things, so don't take it personally boys. I use boy stuff, too!
Don't you just love the little trees on this layout? They are super cute and so easy to cut from the patterned papers in this line.