I know, I know, I've taken my slow time getting these pictures from CHA posted, but I've had so much blogging to do since then and this kind of got pushed to the back burner!
This was my first CHA and let me tell you, I sense many more in my future. I had a BALL!!! My favorite thing about CHA (besides getting to see all of the new product firsthand) was coming in contact with so many of the women whom I've grown to know and admire although I've only actually seen their avatars. The are each so creative, sweet, and funny and I look forward to continuing to grow our relationships!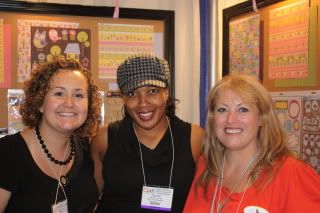 (Danielle Holsapple, me, and Susan Dupre) Besides the MLS gals,
Susan
was the very first person I met at CHA. She's is hilarious! If you ever get to meet her, tell I said I owe her one for making me chase after her with camera in hand! LOL! I'm not as spry as I used to be, Susan!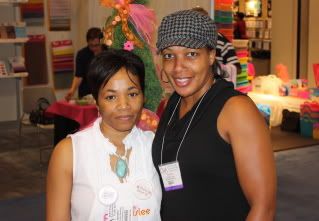 (Jennifer Beeson and me) I met
Jenny
on sb.com a few years ago. She is a sweetie and oh so very talented. I just hope that standing this close to her allowed some of her creative genius to rub off on me.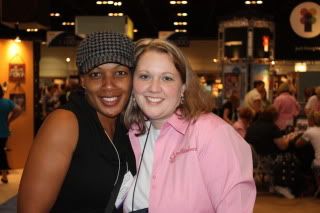 (Kimberly Crawford and me)
Kim
was one of the people that I had planned to meet at CHA ahead of time--I looked forward to meeting her since I had known her for a while from scraplovers.com. When we met, we clicked instantly, like old girlfriends.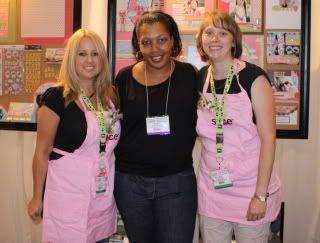 (Lisa Houpt, me, and TraceyT) The way I met
Lisa
(whom I met through DreamGirls Challenge Blog design team) and
Tracey
(whom I met on scraplovers.com) was so funny! I walked up to them in the MLS booth and kindly asked "do you ladies need some help"? Lisa turned around and said "Tanisha?" and then went on to introduce herself and we started chatting. Then I turned to the person she was with and practically leaped on her as I shouted "oh my god, TraceyT, TraceyT"!! I swear the 3 of us stood and chatted for the longest time and quite honestly could have gone on even longer!
(Veronica Jennings and me) I met
Vee
way back in 2006 on sb.com when I first discovered online forums and I have admired her work since them. You'll probably recognize her from Memory makers magazine as she was a Master '09 and deservedly so!
Veronica Jennings and very talented 2 Peas Garden Girls
Cindy Liebel
and
Wendy Bretz
.
I also had the pleasure of meeting Stephanie Hunt, owner of Belle Blvd, Stacey Michaud from scrapstreet.com, Nikki Sivils, owner of Nikki Sivils, Scrapbooker, Charity Hassel...I know I'm forgetting someone...if it's you...sorry, my momnesia seems to get worse by the day!